Innovative speciality papers and boards offer more benefits to the US packaging market
BOSTON, Sept. 25, 2015 -- Sappi today announced that it will be showing its full range of speciality and packaging grades as one of the leading global companies supporting the packaging industry at the 2015 Pack Expo exhibition in Las Vegas September 28-30th, Booth # S-6287. Sappi is committed to offering customers excellent, innovative and sustainable speciality products via its robust global network.

"We are very pleased to have this united market presence at Pack Expo," said Mark Odgers, Director Packaging for Sappi North America. "Sappi is investing heavily in our infrastructure, including manufacturing, R&D and distribution. Those investments are delivering results for our customers with our renewed focus on innovation, very high and consistent quality, increased capacity, and a promise to bring at least two new breakthrough products to market each year, a significant achievement in the paper industry. Visitors from around the globe will experience a broader range of innovative, sustainable packaging solutions for designers, brand owners and packaging converters. The North American market will now have access to some exciting new grades that we believe will enable them to introduce higher-quality packaging with even greater shelf appeal. From mineral oil barrier grades that have the ability to safely reduce the amount of plastic used in packaging, to label and flexible packaging substrates that allow the production of vibrant, attractive packaging, to our stunning Folding Box Board (FBB) and Solid Bleached Board (SBB) rigid packaging grades, we'll have something for everyone."
The strongest brands deserve the best that packaging can offer
Making its Pack Expo debut is Sappi's LusterPrint product. If you care about the performance of your package, look no further. Sappi's LusterPrint is an FDA compliant packaging paper designed specifically for challenging converting applications. A proven winner for multi-wall bag applications, LusterPrint GR3 Max is formulated to be grease resistant and is ideal for pet food packaging. Untreated LusterPrint delivers the same exceptional performance in the field for applications that don't demand grease resistance. Typical end uses include pet food, popcorn, coffee, cookies, confections and seed packs.
Delivering your brand to the world
Also new to the conference is Sappi's LusterCote product. Designed for excellence in offset and flexographic printing, LusterCote is a coated one side (C1S) product with the superior print performance you expect from Sappi. Press operators rave about how the sheet performs on press. Graphic designers and brand owners will love the print fidelity. Designed with a unique backside coating, LusterCote performs with both hot melt and wet adhesives in a wide variety of converting applications. Designed with the cut & stack label market in mind, additional applications for C1S products include: base sheet for metalizing, PS label face sheet, litho laminating, posters, book dust jackets and more.
Safer food products
Another highlight for PACK EXPO attendees interested in flexible packaging will be Sappi's substrates Algro Guard M and Leine Guard M with integrated oil barrier and hot sealing properties. These innovative and very unique grades were developed in partnership with BASF. These grades are recommended to prevent migration of contaminants into foods and other sensitive products and are ideal for use in sugar, chocolate and confectionery; coffee and tea; crisps, snacks and nuts; dried and dehydrated foods packaging.
Food migration issues have arisen as a result of cardboard packaging materials containing recycled fibres for which one of the primary raw materials is newspapers. Newspaper printing inks contain mineral oil as solvents, as do many commercial printing inks. Mineral oil compounds can remain in the fibres during the recycling process if the printing ink is not completely removed. Algro Guard and Leine Guard M were designed to provide a barrier against mineral oil contamination.
Composting made easy
Also for the flexible packaging market, Sappi will present Algro Nature. This innovative packaging solution was developed in cooperation with Innovia Films and is fully biodegradable and home-compostable. Being manufactured from renewable resources, it is food contact approved and delivers excellent printing and converting results.
Stunning rigid packaging solutions
Ten years ago, Sappi entered the carton board market and set out to revolutionize it with the Sappi Algro Design® family of SBB carton boards, which are known for their luxurious bright white elegance and ability to push the boundaries of print and finishing techniques. Now Sappi is poised to revolutionize the FBB market with atelier™, broadening its offerings of coated virgin fiber carton boards for the packaging market. atelier combines Sappi's signature bright white finish with the rigidity and strength required in a folding box board to deliver perfect functionality with any type of carton board printing, converting finishing or post-production handling that can be imagined. Both Algro Design and atelier, which have enjoyed significant success in Europe, are now available to the North American market and will be on display at Pack Expo.
Low silicone consumption and homogeneous silicone surface
At Pack Expo, Sappi will be also featuring its Algro Sol line of silicone base papers featuring low silicone consumption, 25% lower than other standard carrier papers currently available on the market. Despite the low silicone consumption, an extremely homogeneous silicone surface is achieved. This ensures excellent removal of the self-adhesive films from the siliconised carrier paper. Reduced silicone consumption results in significant cost savings and has a positive effect on the eco-balance. The pulp used to produce Sappi papers also has a positive impact on the environment. As an example, Algro Sol papers are manufactured from pulp sourced from FSC approved wood.
About Sappi
Sappi North America, headquartered in Boston, is a market leader in converting wood fiber into superior products that customers demand worldwide. The success of our four diversified businesses - high quality Coated Printing Papers, Specialised Cellulose, Release Papers and Specialty Packaging - is driven by strong customer relationships, best-in-class people and advantaged assets, products and services. Our high quality Coated Printing Papers, including McCoy, Opus, Somerset and Flo, are the key platform for premium magazines, catalogs, books and high-end print advertising. We are a leading manufacturer of Specialised Cellulose used in a wide range of products, including textile fibers and household goods, and a global leading supplier of Release Papers for the automotive, fashion and engineered films industries. Our Specialty Packaging products, such as LusterPrint and LusterCote, represent an important asset in the food packaging and labeling industries. Customers rely on Sappi for high technical, operational and market expertise; products and services delivered with consistently high quality and reliability; and, state-of-the-art and cost-competitive assets and innovative spirit.
Sappi Europe is the leading European producer of coated fine paper, as used for premium publications, catalogues, books and high-end print advertising. With headquarters in Brussels, Sappi Europe is known for innovation and quality. The range of graphic paper grades includes Magno, Quatro, Vantage, Royal, Galerie and GalerieArt. Algro, Leine, Parade, Fusion and atelier are innovative brand solutions for special papers and cartons. Sappi papers are produced in paper factories holding ISO 9001, ISO 14001 and OHSAS 18001 certification. All factories in the European Union are registered with EMAS. Sappi's European factories have product chain certifications in line with the Forest Stewardship Council (FSC) and the Programmes for the Endorsement of Forest Certification (PEFC).
Sappi North America and Sappi Europe are divisions of Sappi Limited (JSE), a global company headquartered in Johannesburg, South Africa, with over 13,000 employees and manufacturing operations on three continents in seven countries, sales offices in 50 countries, and customers in over 100 countries around the world. Learn more about Sappi at www.sappi.com.
Featured Product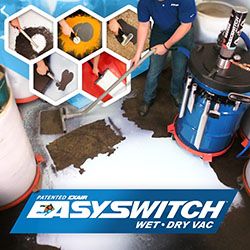 EasySwitch Wet-Dry Vacuum simplifies the filter change process when switching from vacuuming a dry material to a liquid or vice versa. The EasySwitch is a powerful pneumatic vacuum that is ideal for any application - wet, dry, light and heavy. https://exair.co/184_5175 Learn more about our special on our vacuums at https://exair.co/184-vacpromo