Integrates many features required to implement smart objects - in under 25 grams
GRENOBLE, France, Sept. 22, 2015 -- How to leverage the remarkably powerful, yet highly energy-efficient STM32-L4 processor recently released by STMicroelectronics for building compelling proofs of concept for smart objects? Project LimiFrog (http://LimiFrog.io), live on Kickstarter until September 30, offers an answer.

In a very small volume, LimiFrog adds many sensors, an oled display, smartphone connectivity and more to this 32-bit, ARM Cortex-M4 based micro-controller. It gives start-up entrepreneurs, makers or high-tech students the means to easily build convincing prototypes when size, weight and integration matter - in fields such as wearables, small robots or Internet of Things devices.
LimiFrog fits in just 1.5"x1.6"x0.47'' and embeds, on top of the above features, a USB 2.0 interface, 64Mbit data storage and a rechargeable battery. An extension port enables interfacing with external systems. Reduced configurations are also available. On the software side, LimiFrog comes with initialisation code and libraries to ease accessibility for beginners, while leaving full freedom to seasoned developers to make the most of the platform. LimiFrog is programmed in C or C++ and MicroPython support is coming. Finally, 3D-printable models of cases will be made available to hold and protect the battery, board and display.
Xavier Cauchy, its creator, explains how LimiFrog was born: "Originally, I had this idea of a configurable fashion accessory. I wanted to build a prototype with an attractive look-and-feel and sufficient processing power. Arduino or RaspberryPi and the likes were either too limited or too power-hungry and needed cumbersome add-on hardware. So I decided to develop my own platform." He adds: "I soon realized that it could be useful for many other projects."
Salient points of LimiFrog's specifications include:
> Multiple sensors: 3-axis accelerometer, gyroscope and magnetomer, atmospheric pressure/altitude sensor, ambient light sensor, proximity and distance detector, microphone
> STM32-L4:
- ARM Cortex-M4 core with Floating Point Unit (FPU) and DSP instructions, up to 80MHz
- Ultra-low power: only 100uA/MHz in active mode, down to 30nA in shut-down mode
> BlueTooth 4.1 interface with integrated antenna
> Full-color 160x128 pixel PM-OLED display
> USB-rechargeable LiPo battery, 500mA.h
> Configurable extension port supports I2C, SPI, CAN, UART, GPIO, Timer/PWM, IT, ADC, DAC...
> Open-source software package: immediate configuration of the board, easy control of on-board hardware resources, pre-integrated USB driver, FAT File System and professional graphics library
> Various real-time OS and kernels can run on STM32
LimiFrog is running a crowdfunding campaign on platform Kickstarter until September 30:
https://www.kickstarter.com/projects/765344573/limifrog-ultra-compact-prototyping-for-iot-and-muc
It will then be available through LimiFrog's website, with customization options.
LimiFrog on the web and social networks:
http://LimiFrog.io
twitter: @LimiFrog
facebook.com/LimiFrog
Featured Product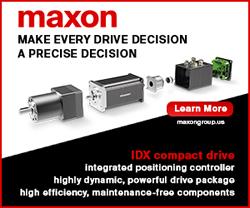 maxon motor launches new high-speed motors that are configurable online. The new ECX brushless motors are quiet and feature very high efficiency. The ECX motors are available with diameters of 8, 16 and 19 mm achieving speeds of up to 120,000 rpm. They run very smoothly and are highly efficient. With maxon motor's online configurator, it is easy to put together a customized DC motor to include gearhead, encoder and controller. The customized motors are ready to ship in 11 days!