PACK EXPO 2015, Sept. 28-30 in Las Vegas, Nev.
ORCHARD PARK, N.Y.--ITT Corporation (NYSE:ITT) will showcase a comprehensive portfolio of reliable, customized motion control solutions at PACK EXPO 2015, Sept. 28-30 in Las Vegas, Nev. ITT will demonstrate its shock absorbers, rotary actuators and custom cylinders with interactive, 3D views of the products, components and processes.

"Were excited to attend the PACK Expo this year. The new 3D imagery technology will help our customers visualize our products and their components throughout their range of motion," said Chris McGrath, General Manager for Control Technologies Industrial Products.
Designed for the most demanding applications, ITTs product innovations offer market-leading product reliability with extended service life. ITT and its Enidine, Turn-Act and Compact Automation Products brands will highlight motion control technologies and solutions, including:
* The Enidine ECO Series Non-Adjustable Shock Absorber
* The Turn-Act Series Rotary Actuator
* The Compact Automation Products custom cylinders
"These industry-changing products are a smart addition for plant managers to add to their packaging facilities," said Greg Herman, product manager for ITTs Enidine brand. "ITT is dedicated to providing our customers with the most reliable and long-lasting products available."
The ECO Series Non-Adjustable Shock Absorber accommodates a wide range of operating conditions with varying masses or propelling forces and covers a variety of application parameters. The New ECO Series will deliver high performance whether in low velocity/high drive force or high velocity/low drive force conditions.
The Turn-Act Series Rotary Actuator has one moving part providing no backlash or loss of motion, precise repeatability and continuous full torque throughout rotation.
Compact Automation Products custom cylinders, slides and precision glides are created with materials suitable for hazardous environments, allowing these products to comply with the requirements of nearly any packaging application.
ITT representatives will be available for meetings at the 2015 PACK Expo at Booth S-8405 on the South Upper Level. For more information regarding ITTs packaging industry solutions, please visit the Enidine, Compact Automation and Turn-Act brands online, or visit our packaging webpage at www.ittcontroltech.com/packaging.
About ITT
ITT is a focused multi-industrial company that designs and manufactures highly engineered critical components and customized technology solutions. Our customers in the energy, transportation and industrial markets depend on us to solve their most critical problems, and we focus on partnering with them to find solutions to their unique challenges. Founded in 1920, ITT is headquartered in White Plains, N.Y., with employees in more than 35 countries. The company has sales in approximately 125 countries and generated 2014 revenues of $2.7 billion. For more information, visit www.itt.com.
About ITT Control Technologies
ITTs Control Technologies business is a global manufacturer and supplier of highly engineered industrial products and aerospace components. Through leading brands such as Enidine, Turn-Act and Compact Automation the business serves customers in the infrastructure, energy, automation and aerospace markets. For more information, visit www.ittcontroltech.com/.
Featured Product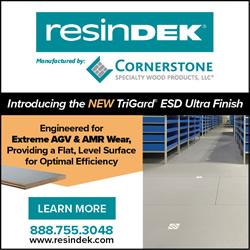 To maximize the productivity of an autonomous mobile robot (AMR) or automatic guided vehicle (AGV) deployment, it's critical to create the optimal environment that allows the vehicles to perform at their peak. For that reason, Cornerstone Specialty Wood Products, LLC® (www.resindek.com) created the TriGard® ESD Ultra finish for its ResinDek® engineered flooring panels. The TriGard ESD Ultra finish is ideal for high-traffic robotic applications characterized by highly repetitive movement patterns and defined travel paths.