Accomplished legal advisor to lead protection of intellectual property
(CINCINNATI: Sept. 22, 2015)—Intelligrated® (www.intelligrated.com), a leading North American-based automated material handling solutions provider, announces the appointment of Dave Schmit to the position of senior vice president, corporate intellectual property. Schmit leads the transition of Intelligrateds corporate intellectual property practice in-house, responsible for associated legal policies, strategies and processes to protect the companys innovations and grow its legal footprint.

Schmit brings more than 30 years of intellectual property law experience and a strong familiarity with Intelligrated to his new role. He has served as a close legal advisor to senior management since Intelligrateds inception, guiding initial intellectual property legal strategy, successfully defending trade secrets and representing the company in other commercial and technical transactions. Under Schmits leadership, the intellectual property practice is responsible for patent and trademark applications, and conducting patentability, freedom to practice and other studies to effectively address commercial and development opportunities as they emerge.
"As Intelligrated continues to expand its product line, a strong and responsive intellectual property practice enables us to make the most of new opportunities to innovate," says Mark Tefend, chief legal officer. "Dave is one of our longest-standing and most-trusted legal advisors, and his experience with our business and customer base makes his counsel particularly valuable and enables him to offer immediate sage, practical and strategic counsel to our operations."
Before joining Intelligrated, Schmit served as a senior partner at the law firm of Frost Brown Todd, LLC. His career includes arguing nearly 100 intellectual property cases, including a major patent case before the United States Supreme Court. Schmit holds a bachelors and masters degree in electrical engineering from the University of Cincinnati and earned his J.D. from Northern Kentucky Universitys Salmon P. Chase College of Law.
For sales and marketing information, contact Tracy Niehaus, marketing manager, Intelligrated, by phone at 513.881.5239 or by email at tracy.niehaus@intelligrated.com.
For media information, contact Dan Gauss, public relations, Koroberi, by phone at 919.945.0527 or by email at dan@koroberi.com.
Tweet this: @Intelligrated appoints @uofcincy and @NKUChaseLaw alumnus Dave Schmit as vice president, corporate intellectual property bit.ly/1MhcCu1
###
About Intelligrated
Intelligrated is a leading North American-based, single-source provider of intelligent automated material handling solutions that drive fulfillment productivity for retailers, manufacturers and logistics providers around the world. Through a broad portfolio of automation equipment, software, service and support, Intelligrated solutions give businesses a competitive edge and optimize operational performance through increased flexibility, efficiency and accuracy.
Intelligrated designs, manufactures, integrates and installs complete material handling automation solutions including conveyor, IntelliSort® sortation, Alvey® palletizers and robotics, and automated storage and retrieval systems - all managed by advanced machine controls and software. Intelligrated Software offers warehouse execution systems, a scalable suite of software that manages the entire fulfillment process, including equipment, labor and business intelligence, integrated with voice- and light-directed picking and putting technologies.
From concept to integration to lifecycle support services, Intelligrated delivers dependable, sustained distribution and fulfillment success, and maximum return on investment. Intelligrated backs every project with 24X7 multilingual technical support and access to lifecycle service through a network of national, regional and local service centers. For more updates, follow us on Twitter @Intelligrated.
Featured Product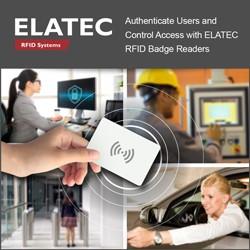 With a tap of the badge, RFID readers from ELATEC provide secure, reliable and easy-to-use user authentication, access control and usage tracking of hardware and software in industrial automation processes. Reader durability in harsh plant floor environments is another essential feature. Choose the right authentication and access control solution and extend RFID card-based capability for the access control of PLC, robot and HMI automation controller software and devices requiring special operator training.