Now available from LinTech is the totally enclosed 610 series low-cost positioning stage. This large load capacity totally enclosed positioning stage is available in stroke lengths from 6 to 60 in (150 to 1520 mm) and ships in ~2 weeks.
The Lintech 610 series screw driven linear enclosed slides are designed to maximize performance while minimizing physical size and cost. These linear positioning systems use a low friction, preloaded, recirculating linear ball bearing system, which ride on precision ground linear rail guides. The linear rails are mounted to an extruded aluminum base, which offers a rigid support over the entire travel of the tables carriage. The load is mounted to a precision machined aluminum carriage, which has threaded stainless steel inserts for high strength and wear life. There are 38 different acme & ball screw options that offer high efficiencies and long life at an economical price. These linear tables are designed to allow for numerous options. They include EOT & Home switches, linear & rotary encoders, power-off electric brakes, motor wrap packages, and versatile mounting brackets for multiple axis applications.

Features include:
· Self lube linear bearings
· Enclosed IP-30 rated system
· Shorter length since no waycovers used
· Rigid screw support for high critical speed
· Side access holes for screw nut lube input
· Profile rails for high rigidity & load capacity
· Switch wiring slot with connector on end plate
· Wide rail & bearing spacing for high moment loads
· NEMA, Rockwell, Parker, Mitsubishi, Yaskawa mounts
· Many options for screw, brake, encoder, switches etc.
View the link below to view the specification and pricing on the Lintech 610 positioning stage.
http://www.lintechmotion.com/products2.cfm?ModelNo=610&t=Group6
Lintechs website also has a time saving sizing app for the 610. This allows for selection of the travel, screw type, and input of application parameters. This then provides all inertia values, maximum speed, and required torque without looking up any specifications from the 610 catalog. This program also can be used on smart phones or an iPad. There is also sizing for all other systems as well. View the link below to launch the sizing application.
http://www.lintechmotion.com/sizing/610-series/move-profile-610.html
Featured Product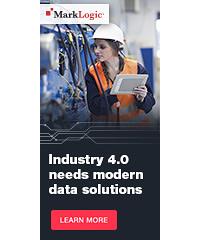 Use Data to Deliver Efficiency, Reduce Risk, and Create Better Products. Disruptive technologies and market changes are transforming the manufacturing industry, requiring a new focus on optimizing use of data and information. It all adds up to a new industrial revolution called Industry 4.0. Organizations who want to realize the potential of this revolution need to "Industrialize their data," making it a core asset to deliver better products and customer service, navigate complex business environments, and transform for the future. MarkLogic customers are delivering on this vision for data with a proven architectural pattern called the Operational Data Hub that simplifies the integration of data along the digital thread to power operational and analytic use cases across the enterprise.