YST will market and support Adept's mobile robot products in South Korea across a broad range of markets and applications.
PLEASANTON, Calif. -- Adept Technology, Inc. (Nasdaq:ADEP), a leading provider of intelligent robots, autonomous mobile robot solutions and services, has added a new distributor in the Republic of Korea, YS-Thermtech Co., Ltd. (YST). YST develops and sells industrial furnaces and automated equipment for a broad range of manufacturing sectors, including photovoltaics (PV), advanced materials, metallurgy, and others. With 35 years' experience, YST provides solutions using its core engineering capabilities in thermal, vacuum, and automation technologies. Concurrent with entering the agreement with Adept, YST placed an initial order for 100 units of Adept's Lynx autonomous intelligent vehicle (AIV) products to be operated in fleets and delivered over the next three years.

"We are pleased to welcome YST as Adept's newest distributor in Korea," said Rob Cain, president and CEO of Adept. "YST began by selling industrial furnaces in 1981 and over the last 10 years has added exciting products for renewable energy and advanced materials. They bring significant experience delivering high-quality integrated systems and services to their customers throughout Korea and many other countries."
YST will market and support Adept's mobile robot products in South Korea across a broad range of markets and applications. YST recently opened a dedicated mobile robot solutions technical center for demonstrating Adept's full range of Lynx products as well as the new Lynx Enterprise Manager 1100 fleet management system, which controls the operations of a fleet of Lynx mobile robots. Lynx Enterprise Manager 1100 can coordinate up to 100 vehicles simultaneously to enable large-scale deployments in factories and warehouses.
"We are extremely excited to partner with Adept as its exclusive distributor to promote and introduce these highly innovative and intelligent mobile robots into the Korean markets," said Colin Kang, CEO of YS-Thermtech. "YST has been thoroughly evaluating Adept's Lynx autonomous vehicles, and we believe Lynx is the best product in its class on the global market. The integrated safety systems are designed to allow the vehicles to travel independently and easily through congested work environments without the need for infrastructure modifications such as tracks, lines, magnets, or reflectors. We are excited to show how Lynx robots will operate safely alongside people, reducing manual transport tasks, enabling 'lean' workflow processes, and increasing operational efficiencies by allowing manufacturers to redeploy personnel to higher value-add tasks. The unique capabilities of these AIVs along with Adept's powerful and easy-to-deploy software will enable our customers to realize higher levels of flexibility and productivity through new material handling and transport solutions that have been previously unachievable."
About YS-Thermtech Co., Ltd.
YST was founded as an industrial furnace manufacturer in 1981 and has been actively involved as an application and solution provider with innovative engineering and reliable services for thermal, vacuum, and automation technologies. Many mutual partnerships within South Korea and around the world have enhanced YST's marketing, engineering, and services for various fields of business such as automotive, display, electronics, semiconductor, advanced materials, and more. YST has not only collaborated with and supported its existing clients throughout its long history, but it also aggressively participates in development projects to expand business with new products and markets. Photovoltaic, LED, and image sensor technologies have been chosen as YST's newest markets and targeted business since 2005. YST has also been preparing for the next decade of its growth with advanced materials, highly functional material treatments, and intelligent automation.
About Adept Technology, Inc.
Adept is a global, leading provider of intelligent robots, autonomous mobile robot solutions, and services that enable customers to achieve precision, speed, quality and productivity in their assembly, handling, packaging, testing, and logistical processes. With a comprehensive portfolio of high-performance motion controllers, application development software, vision-guidance technology and high-reliability robot mechanisms with autonomous capabilities, Adept provides specialized, cost-effective robotics systems and services to high-growth markets including medical, electronics, food and semiconductor; as well as to traditional industrial markets including machine tool automation and automotive components.
Featured Product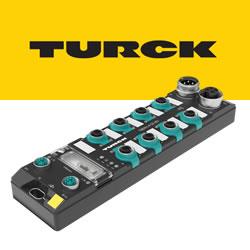 The new IP67 Managed Ethernet Switch from Turck provides standard and Gigabit ports in the same device. Configure, manage, and monitor connected machines and devices remotely, outside of a control cabinet. Find out more about this rugged solution for decentralized control. Part number TBEN-Lx-SE-M2. • Gigabit high-speed backbone for fast link-up times • Standard and Gigabit ports on the same device • Web-based diagnostic tools for preventive maintenance • Built-in security with the use of VLAN, NAT routing and firewall