Attendees in Chicago will learn how to accelerate industrial performance via the Connected Enterprise at annual event hosted by Rockwell Automation
MILWAUKEE, Aug. 31, 2015 — The world of manufacturing and production is undergoing unprecedented change with the convergence of information and operations technology, along with the emergence of modern technologies associated with the Internet of Things. The opportunity to learn about the latest integrated control and information portfolio of products, services and solutions that can enable a Connected Enterprise will be the focus of this years Automation Fair event from Rockwell Automation.

Hosted by Rockwell Automation and members of its PartnerNetwork program on Nov. 18 and 19 in Chicago, the 2015 Automation Fair event will showcase the latest advancements in tools, technologies, services and solutions that can help drive profound changes across the automation investment life cycle.
"Helping our customers realize greater productivity and increased global competitiveness through the Connected Enterprise is our passion and a top priority," said Keith D. Nosbusch, chairman and CEO, Rockwell Automation. "The 2015 Automation Fair event will help attendees learn and apply the most contemporary industrial automation and information solutions to machines, plants and production, and fully leverage the power of IT/OT convergence."
At this years event, more than 100 exhibitors will fill the west building of Chicagos McCormick Place along with attendees of user-group meetings, hands-on labs, technical sessions and demonstrations. Attendees can experience Rockwell Automation products and technology at 19 hands-on labs, and participate in any of the 91 technical sessions. During nine industry- and audience-specific forums, customers and industry leaders will share best practices for the following industries and segments: automotive, chemical, food and beverage, global machine and equipment builders (OEMs), life sciences, metals, oil and gas, power and energy, and water wastewater.
The week will start with the Process Solutions User Group (PSUG) annual meeting on Monday and Tuesday and the Automation Perspectives global media forum on Tuesday morning.
PSUG will bring together more than 800 operations, IT and engineering professionals in process industries to share best practices and learn from peers. The event will include more than 30 hands-on labs and technical sessions, as well as presentations from more than 25 customers. Attendees can provide feedback to direct the development and technical roadmap for the PlantPAx distributed control system from Rockwell Automation.
The company will host its annual Automation Perspectives global media forum to provide global media and industry analysts with an update on the latest trends and an outlook on the future of automation. The event includes panels and keynote speeches from Rockwell Automation executives and leaders at global companies who will discuss their progress, challenges and successes in creating their own connected strategies.
Registration for the 2015 Automation Fair event, PSUG and the Automation Perspectives global media forum is now open online.
About the Rockwell Automation PartnerNetwork Program
The Rockwell Automation PartnerNetwork program offers global manufacturers access to a collaborative network of companies mutually focused on developing, implementing and supporting best-in-breed solutions to achieve plantwide optimization, improve machine performance, and meet sustainability objectives.
About Rockwell Automation
Rockwell Automation Inc. (NYSE: ROK), the worlds largest company dedicated to industrial automation and information, makes its customers more productive and the world more sustainable. Headquartered in Milwaukee, Wis., Rockwell Automation employs about 22,500 people serving customers in more than 80 countries.
Featured Product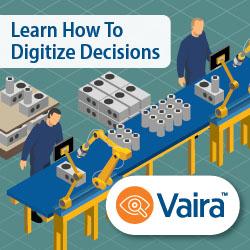 A unique distillery uses Pleora's Visual Inspection System to maintain brand quality standards and reduce errors that increase operating costs and slow production. To help ensure brand consistency, the distillery uses Pleora's AI-based Visual Inspection System to add decision-support for manual labelling processes. The camera-based system integrates pre-packaged AI plug-ins that are easily trained on a customer's unique requirements to visually highlight product differences and deviations for operators and inspectors on a display. The distillery trained the Image Compare plug-in to identify key brand elements on the bottle, with a real-time on-screen image overlay then guiding operators as they manually place the emblem. In addition, the system can be used as a training tool to teach new employees on brand quality standards.