Nation's educators need to better prepare students to fill key roles
RIDGEFIELD, N.J., Aug. 27, 2015 -- American business leaders have identified robotics as a major source of jobs for the nation's youth, with many openings currently unfilled.

In a poll of 200 senior corporate executives on the industrial sectors they thought would create the most jobs for our nation's youth during the rest of the decade, 81% mentioned robotics as a top area. The poll was conducted for the National Robotics Education Foundation (NREF) by Information Strategies, Inc. (ISI) in April-July, 2015.
Other industry sectors most often mentioned by respondents were solar energy, distribution/logistics, water management/distribution, retailing, and conservation activities.
Today, there are an estimated 150+ thousand unfilled positions in robotics related workplaces in the U.S. alone, according to industry surveys. These positions often pay higher than average salaries for even the most basic service openings, according to another survey by ISI for NREF.
By 2020, job openings are expected to grow to almost 500 thousand positions. In their comments, executives polled said all of these areas and many more will require individuals who can design, build, program, operate and maintain these machines.
Thomas Atwood, NREF's Executive Director, commissioned the study after taking initial soundings and speaking to industry executives. "These openings are not limited to big companies. The industry is spawning smaller entities as well. Most jobs in America are generated by small companies and they are in the forefront of this revolution," he said.
The challenge the respondents expressed: How do we awaken interest and train students to meet these evolving worker needs and opportunities?
According to numerous studies, the robotics industry is in a very expansive mode today, showing no signs of deceleration. Opportunities, Atwood said, are not limited to large industrial corporations but to small companies as well.
Featured Product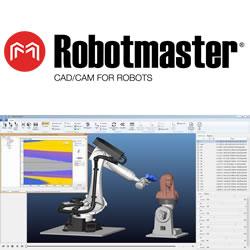 Since Robotmaster V7 uses integrated CAD/CAM functionality, for the first time, the power of Robotmaster can be used by welding, cutting and other process experts without buying or learning complex CAD/CAM software. As in past versions, Robotmaster V7 imports paths, but now makes it even easier for end users to leverage any CAD/CAM tool choice. It is an intuitive tool that anyone could use, with or without robotics expertise. It bridges the gap between robots and manufacturing by providing easy programming solutions for part manufacturing.