APT Manufacturing Solutions, has seen a dramatic uptick in this arena because of increased reshoring.
HICKSVILLE — A 15,000-square foot expansion at APT Manufacturing Solutions northwest Ohio facility is currently underway, a direct response to an increased demand for automation among US manufacturers. APT Manufacturing Solutions, which specializes in providing robotic assembly cells, has seen a dramatic uptick in this arena because of increased reshoring.

"In the past, many companies sent their assembly and manufacturing overseas in an effort to cut costs," says Anthony Nighswander, President. "However, rising energy and labor costs in other countries have made that impractical, which has driven many companies to 'reshore and bring that work back to the United States. APT Manufacturing Solutions strength is helping manufacturers lower their production costs through robotic automation and/or redesign of their assembly lines. Weve also seen significant growth in packaging automation and machine tenders over the last several years. Demand has been so great for this service that we are undergoing another significant plant expansion."
The expansion, APTs fourth in the past five years, will add more automation floor space and additional engineering offices, and should be complete by the end of September. The building and renovation process is not expected to interrupt operations in the current space.
APT Manufacturing Solutions
APT Manufacturing Solutions, formerly known as A&P Tool, is a full service company providing machining, automation, forming and fabricating, as well as fixtures and gauging. They are one of the largest companies of automation, engineering and machining in the area, with over 90 employees, including a full mechanical and electrical engineering staff. APT is an ISO 9001 Certified Company and a FANUC Authorized Systems Integrator.
Featured Product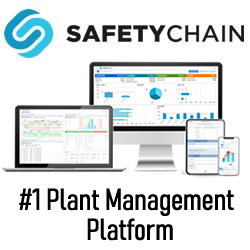 SafetyChain is the #1 Plant Management Platform that improves yield, maximizes productivity, and ensures compliance for process manufacturers. Trusted by over 1,500 facilities, SafetyChain is the only enterprise solution uniting production, quality, safety, and supplier management.