With the DB80, Nanotec presents an EC motor which – relative to its design size – exhibits exceptionally high power density
With the DB80, Nanotec presents an EC motor which - relative to its design size - exhibits exceptionally high power density. Featuring a rated speed of 3000 rpm and a rated voltage of 48 V, this 8-pin motor is particularly suitable for applications which require a high degree of efficiency; for example in service robotics or automated guided vehicle systems.

The DB80 has a flange size of 80 x 80 mm and is available with Hall sensors or encoder. By standard, it is supplied with a parallel keyway that enables quick and easy connection.
Four lengths cover a performance range from 280 to 940 W. Additional high-performance planetary gear systems can be mounted for high torques. Customer-specific versions with other windings or wave forms are also offered. Soon the DB80 will also be available with integrated electronics under the model name PD6-CB80.
About Nanotec
Nanotec Electronic GmbH & Co. KG has been a reliable partner since 1991 in the implementation of drive solutions based on high performance stepper motors, BLDC motors, linear actuators, and innovative motor controllers.
We have more than 20 years of experience developing of innovative products solutions such as high performance, energy-saving Plug & Drive motors. Nanotec was quick to recognize the trend towards integrated motors and was one of the first manufacturers to market an integrated stepper motor with the Plug & Drive product line.
Through their integrated, powerful motor controller plus encoder, the Plug & Drive motors deliver a performance in closed loop mode far beyond that of the classic stepper motors. Our Plug & Drive motors are highly energy-efficient, compact drives with precise and exact positioning. Advanced software technologies lead to platform independence and enable simple integration of our motors and motor controller systems. A strong focus on research & development guarantees products that will also meet our customers' needs in the future.
Nanotec Electronic GmbH & Co. KG has its company headquarters in Feldkirchen near Munich with subsidiaries in Changzhou, China, and Medford/MA, USA.
Featured Product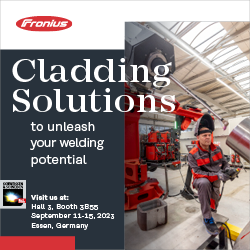 Ever since the invention of our "cold" MAG welding process Cold Metal Transfer (CMT), if not earlier, we have continuously achieved a technological edge in many welding-related areas, resulting in cutting-edge mechanized and automated welding systems. Advanced power source technology stabilizes the arc and ensures perfect welding results. Modern monitoring sensors optimize guidance of the welding torch and compensate for component tolerances. Last but not least, smart data documentation systems assist in perfecting the welding process. Collaborative systems, smart sensor technology, software solutions for data management, and offline programming including welding simulation open up profitable welding opportunities for metal processing companies starting with a single batch. That is why our robotic welding cells prove profitable not only for large companies, but also for small and medium-sized enterprises.