New machine vision features ---Significantly improved bar code and data code reading
Munich, July 30, 2015 - MVTec Software GmbH (www.mvtec.com), a leading manufacturer of standard machine vision software, has released an update to its flagship product, the HALCON machine vision software. HALCON 12.0.1, the first maintenance release for the latest version 12, offers a number of new features and improved functions. Among other things, the optical character recognition (OCR), the ability to read data codes and bar codes, the usability of the HDevelop development environment, 3D vision, and many more features were optimized. Production and retail companies will benefit from more efficient image processing and can further refine their automated processes.

The new release makes the reading of bar codes significantly more robust. For example, HALCON 12.0.1 is much better at reading EAN-13/UPC-A bar codes from highly blurred images. For 2/5 interleaved codes, the bar code reader is far better able to handle print growth, print loss, and overexposure. Moreover, all code types are now less sensitive to interfering edges outside of the bar code region. The improved functions make it possible to optimize the use of bar codes, for example in point-of-sale and mobile hand-held scanner applications in the retail and logistics sectors.
Optimized usability for efficient image processing
The new HALCON release provides even more usability improvements. The enhanced data code reader now supports the latest GS1 application identifiers and contains additional print quality grading parameters. The user-friendliness of the HDevelop profiler has also been further optimized. Moreover, the popular Visual Studio plug-in for variable inspection has been expanded and improved. A new C# example program shows how to use different threads for acquiring and processing images, and visualizing the results in parallel within a single application. New interfaces for digital I/O and image acquisition, and in particular for additional 3D sensors, round out the package.
"With the HALCON 12.0.1 maintenance release, we again have added well-thought-out features to our leading standard machine vision software, in the process making it even more practical for use in a wide range of application scenarios," comments Johannes Hiltner, Product Manager for HALCON at MVTec Software GmbH.
Featured Product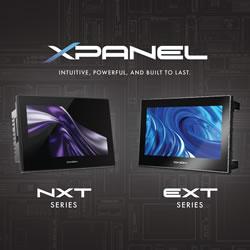 CIMON-XPANEL is a Windows CE based HMI unit. A combination of software and hardware, suitable for various monitoring needs within industrial sites.