Traverse Legal, PLC has recently launched its new website regarding Section 333 Exemptions and the use of drones (UAS/UAV) for commercial use under FAA regulations.
Traverse City, MI July 23, 2015

Traverse Legal, PLC has recently launched its new website http://www.dronelaw.pro. The website aims to convey essential information regarding FAA Regulations on the operation of drones (UAS/UAV).
DroneLaw.Pro is staffed by legal experts of the drone industry offering assistance in the filing and compliance of the Section 333 Petition exemptions for the commercial use of UAS/UAV/Drones. The new website offers vast amounts of information regarding Federal and State Drone Laws, filing a Section 333 Petition and other Federal Aviation Administration resources regarding drones.
With the FAA granting Section 333 Petition Exemptions on a strict discretionary basis, DroneLaw.Pros objective is to be the leader in legal matters regarding Section 333 Petitions Exemptions and to assist individuals and companies with acquiring a Section 333 Permit, maintaining compliance under the Section 333 Permit and all other FAA regulations for UAS/drones. They understand all legal aspects of the unmanned aircraft systems/drones including the technology, engineering, electrical systems, navigation technology, hardware and software systems of drones and the FAA laws surrounding UAS/UAVs.
Featured Product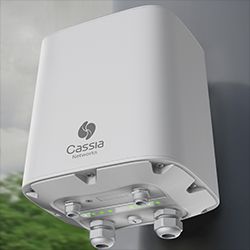 Cassia works with smart IIoT equipment manufacturers to help them overcome their challenges and to provide the competitive edge they need to reach their business goals. We provide companies in various IIoT sectors with a comprehensive suite of enterprise Bluetooth IoT products and solutions they need to enable smart IIoT solutions such as Condition Monitoring, Predictive Maintenance as well as Personnel and Asset Tracking solutions. Cassia's long-range Bluetooth gateways are uniquely designed for today's Industrial IoT enterprises to provide the scalability, flexibility and ease of deployment needed to reduce costs and achieve greater ROI.