Hornet 565 to Debut at CiROS Tradeshow in Shanghai July 8-11, 2015
Pleasanton, Calif., July 7, 2015 - Adept Technology, Inc. (Nasdaq:ADEP), a leading provider of intelligent robots, autonomous mobile solutions and services, has introduced a new parallel robot, the Hornet 565. Featuring high-speed pick and place capabilities, the Hornet 565 offers ease of deployment and advanced performance ideal for packaging applications. Adept will debut the Hornet 565 at its China International Robot Show (CiROS) 2015 tradeshow booth, A116, in Shanghai July 8-11.

"Adept has designed the Hornet 565 to increase our customers packaging throughput while reducing their costs," said Yan Banducci, senior product line manager of Industrial Robots at Adept. "The Hornet 565 is a key addition to Adepts total packaging solution—a portfolio of advanced robotics, high-speed conveyor tracking, powerful vision guidance and easy-to-use application software."
Key characteristics of the Hornet 565 include:
* Industry-leading price/performance
* As compared to competitive robots
** 25% faster
** 25% larger workspace
** 50% lighter
** 50% less footprint
** 25% larger workspace
* 3kg (6.6 lb) payload capacity
* Controller-less architecture
* Hygienic design and corrosion-resistant materials that minimize contamination risk and allow easy wash down
The Hornet 565 will also be shown at ProPak China 2015, Chinas premier packaging trade exhibition scheduled for July 15-17, where it will be featured in the booth of one of Adepts preferred packaging partners, Topak Machine Co., Ltd. Mitchell Chen, director of strategy for Topak, said, "At our ProPak booth, Topak will be showing Hornet 565 integrated with our high-speed flow wrapping packaging solution, where it is ideal for loading products onto the infeed conveyor belt. Were excited about the opportunities that Hornet 565 presents to our customers, who are always looking to improve their throughput and lower costs."
Hornet 565 offers fast, precise pick and place capabilities and industry-leading conveyor tracking. To allow easy system deployment, the Hornet 565 system comes with Adept ACE software, an integrated, point-and-click development environment for Adepts entire product portfolio of robots and controls. Options include the Adept SmartVision MX platform for machine vision and guidance, and ACE PackXpert software for deploying complete packaging automation solutions.
About Adept Technology, Inc.
Adept is a global, leading provider of intelligent robots, autonomous mobile robot solutions, and services that enable customers to achieve precision, speed, quality and productivity in their assembly, handling, packaging, testing, and logistical processes. With a comprehensive portfolio of high-performance motion controllers, application development software, vision-guidance technology and high-reliability robot mechanisms with autonomous capabilities, Adept provides specialized, cost-effective robotics systems and services to high-growth markets including medical, electronics, food and semiconductor; as well as to traditional industrial markets including machine tool automation and automotive components. More information is available at www.adept.com.
About Topak Machine (Kun Shan) Co., LTD
Topak Machine (Kun Shan) Co., Ltd. was founded by Taiwan Topak International Co., Ltd. in 1996. With technical cooperation from Fuji Machinery Co., Ltd. and Tokyo Automatic Machinery Works, Ltd., Topak has been the leading manufacturer of horizontal and vertical packaging machines in China. With its first-rate machining workshop and 100% parts inspection, Topak is able to ensure quality and meet production requirements. With years of experience and leading technical design, Topak continues to provide professional turnkey solutions for clients, delivering high-speed, effective, stable, sanitary, and compact automated sorting, distribution, feeding, packaging, and inspection systems. More information is available at www.topak.com.
Featured Product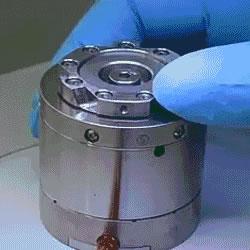 A traditional gantry system employs X-Y or X-Y-Z range of motion. Mounted on a base plate, usually granite, 2 parallel rails constitute the synchronized Y axis motion while the cross axis (bridge axis) provides the X motion. A vertical axis can be added on the bridge for the Z motion. A Split Bridge system can be less complex than a traditional gantry system because synchronization of the two parallel linear motors is not required. Both systems are used in industrial production, testing, and additive manufacturing.