Construction and manufacturing firms topped this year's Future 50 list.
This past year, Midwest Engineered Systems Inc. has expanded markets and capabilities, increased employment, and moved to a larger facility in order to keep up with customer demand. As a result of the hard work and dedication to this industry, the company has been chosen to receive placement on the Future 50 list for the second year in a row.

The Future 50 listings, awarded by the Metropolitan Milwaukee Association of Commerce (MMAC) and its Council of Small Business Executives (COSBE), are comprised of private and locally owned businesses in the seven county regions of the Milwaukee Area. These companies are assessed and ranked based on their overall employment and revenue growth.
Construction and manufacturing firms topped this year's Future 50 list. Companies also appeared to be reflecting an economic revival. Not only did this show that businesses are once again investing in their own companies, but 56% recorded that over half their revenue comes from outside the Milwaukee area. That's a lot of new income for Wisconsin.
"For years following the recession, we saw businesses hesitant to expand or build. The same held true for many residential customers. I think we are now witnessing a cautious end to that hesitancy," stated Mary Steinbrecher, executive director of COSBE, "I believe it's a collective sign of recovery and optimism."
The Future 50 companies selected are invited to celebrate their success at the annual Future 50 luncheon to be held in September, where they will have the opportunity to be announced as a Fast Five business. The chosen 50 will also be given free publicity through newspaper and online sources, a wall plaque, and a profile in the Future 50 section of BizTimes Milwaukee.
Midwest Engineering Systems Inc. is committed to providing simple solutions to complex manufacturing problems. Our engineering staff has technical expertise that includes a diverse knowledge base, building thousands of custom manufacturing solutions over the last 24 years. Our full service shop and 100,000+ sq. ft. facility allow us to integrate new equipment and rebuild existing equipment to support our customers.
Featured Product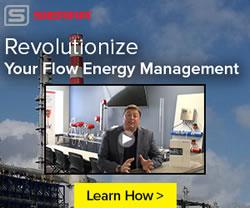 Sierra Instruments announces the launch of its new flow energy solution for managing and optimizing flow measurement for industrial facilities of all sizes. It features Sierra's QuadraTherm 640i/780i thermal flow meters, their InnovaMass 240i/241i vortex flow meters, and their new InnovaSonic 207i ultrasonic flow meter. Designed, built, and calibrated in the USA by Sierra, the Big-3TM share the same revolutionary Raptor firmware and many of the same software apps. They are a complete flow energy solution for flows like compressed air, natural gas, steam, and hot and chilled water. Together, they set a new standard in ease-of-purchase, performance, accuracy, reliability, and ease of use.