igus, a leader in the development and testing of cable management systems and continuous-flexing cables, has announced the release of their Chainflex M line of lower-cost cables.
East Providence, Rhode Island June 18, 2015

Tested, safe, yet low in price - this is the promise from igus with their newest line of Chainflex cables. From control, servo motor, and measuring system cables, to data, power, and bus cables, Chainflex M offers a full cable range, all designed specifically for continuous-flexing applications; at about 40% lower cost than traditional Chainflex cables.
The standard line of Chainflex cables is tested and guaranteed for high speeds, high cycles, and demanding environments, yet many applications do not require such high standards of their cables. Now, with Chainflex M, manufacturers have the option of having the flexible reliability of Chainflex, but with a lower cost. Guaranteed for up to 5 million cycles, Chainflex M cables are in the same price range as cables for non-flexing applications.
All Chainflex cables are tested in igus' in-house laboratory in Cologne, Germany, where 2 billion test cycles are carried out each year, including in true-to-life application settings. There are three main advantages for Chainflex M users: tested reliability, including a guarantee commitment, a competitive price, and the flexibility to fit perfectly into Energy Chain cable carrier systems. Learn more about Chainflex M on the product page, http://www.igus.com/chainflexm
About igus
igus develops industry-leading Energy Chain cable carriers, Chainflex Motion Cables, DryLin linear bearings and linear guides, iglide plastic bushings, and igubal spherical bearings. These seemingly unrelated products are linked together through a belief in making functionally advanced, yet affordable plastic components and assemblies. With plastic bearing experience since 1964, cable carrier experience since 1971 and Motion Cables since 1989, igus provides the right solution from over 100,000 products available from stock. No minimum order required. For more information, contact igus at 1-800-521-2747 or visit http://www.igus.com.
Featured Product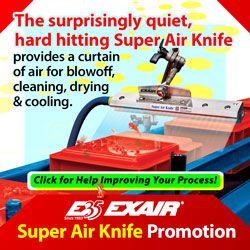 Reversible Drum Vac & High Lift Reversible Drum Vac - Pump 55 gallons in 90 seconds! Two-way pumping action! EXAIR's compressed air operated Reversible Drum Vac and High Lift Reversible Drum Vac attached quickly to any closed head 30, 55, or 110 gallon drum and can fill a 55 gallon drum in less than two minutes. With the simple turn of a knob, the same stainless steel pump quickly empties the drum. High Lift Drum Vac lifts up to 15 feet. Chip Trapper & High Lift Chip Trapper - Vacuums in liquid with solids and pumps out only liquid! Machine tools commonly discharge some chips and shavings into the coolant sump. The Chip Trapper and the High Lift Chip Trapper vacuums coolant or liquid that is filled with debris and traps all the solids in a reusable filter bag, leaving your coolant clean. High Lift Chip Trapper cleans with up to 15 feet of lift. See our current Promotion and all of the other Industrial Vacuums available.