The harsher the environmental conditions, the more robust process automation actuators must be. The new linear actuator DFPI-NB3 from Festo is exceptionally tough thanks to its integrated displacement encoder.
Water, dust, dirt particles and aggressive media often represent considerable challenges for linear actuators in process automation. Many components may not appear to have any immediate impairment of performance, but strengths and weaknesses soon become apparent in long-term operation. The new DFPI-NB3 from Festo demonstrates the performance which a pneumatic linear actuator is capable of, even under the harshest environmental conditions.

Robust and versatile
Designed in accordance with ISO 15552 and equipped with an integrated displacement encoder and optimised piston rod guide, this innovative linear actuator delivers high performance over long periods. The chemical and mining industries, energy producers, machine and plant builders, water treatment companies and companies handling bulk goods have in the DFPI-NB3 a top performer with a long service life.
Its robustness and versatility make this actuator an excellent choice, for example, for swivel motions to control ventilation, flue gas and furnace pressure control valves, hot gas valves and drum slide valves, and for regulating flow rates and filling levels. It is equally suitable for adjusting the pitch of turbine and rotor blades. In the area of linear actuated process valves, the DFPI-NB3 can also be used to optimise the motion of shut-off and dosing valves, sluice gates and pinch and dart valves.
A tough performer
The actuators used in most process automation applications still require external attachments in order to implement closed-loop control. This often means increased maintenance costs and reduced component service life. Externally mounted displacement encoders require frequent re-adjustment. In addition, the moving components are prone to increased wear due to corrosion and dirt particles.
With its integrated displacement encoder, the linear actuator DFPI-NB3 from Festo avoids these drawbacks. The upcoming models that are planned for 2016 and that will round off the linear actuator series DFPI-NB3, will also feature position controllers integrated into the actuator housings. In addition to being extremely robust, the linear actuator DFPI-NB3 also stands out because of its compact dimensions, which mean that it requires little installation space.
A good choice for swivel motions
A further advantage of this linear actuator from Festo with regard to its load capacity and enhanced range of applications is its design in accordance with ISO 15552. This includes an optimised piston rod guide, which counteracts the effect of transverse forces on the piston rod and thus makes the DFPI-NB3 also suitable for swivel motions. Thanks to the standard mounting interfaces, users can draw on a comprehensive range of accessories for every installation situation.
Featured Product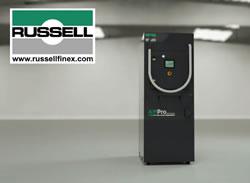 The Russell AMPro Sieve Station™ guarantees the quality of your additive manufacturing (AM) powder, and has been designed to provide optimum sieving efficiency, ensuring your powder is ready for use or reuse as and when you require it. With a simple one-button operation and mobile design, this automated check screener ensures your powder at every stage of the process is qualified for use quickly and safely. The flexibility of the Russell AMPro Sieve Station™ means you can use the system for numerous powder handling tasks - being a modular design ensures the machine can be configured to meet your exact requirements.