HTE Technologies Will Market and Support Adept Robots in Missouri, Kansas and Southern Illinois
Pleasanton, Calif., June 15, 2015 - Adept Technology, Inc. (Nasdaq:ADEP), a

leading provider of intelligent robots, autonomous mobile solutions and
services, announced today that it has added a new distributor, HTE
Technologies, Inc. A full-service automation provider, HTE Technologies will
market and support Adept's portfolio of industrial robots and autonomous
mobile robots in Missouri, Kansas and Southern Illinois.
"We are pleased to welcome HTE Technologies as our newest distributor in the
U.S.," said Rob Cain, president and CEO of Adept. "With over 50 years of
experience in their marketplace, a team of automation product specialists
and application engineers, and a well-equipped robot demonstration facility,
we are confident HTE Technologies will be a successful partner for Adept's
U.S. business."
Adept will be demonstrating the Adept Lynx Autonomous Intelligent Vehicle
and the latest generation eCobra series 4-axis SCARA robots at HTE
Technologies' World Series of Manufacturing event June 23rd at Busch Stadium
in St. Louis, Missouri.
Based in St. Louis, HTE Technologies is a specialized distributor that
provides factory automation products to customers in Missouri, Kansas and
Southern Illinois. The company has made significant investments in both
Mobile and Industrial products, including test labs, which are fully
outfitted with working equipment for hands-on training and proof of concept
evaluation.
HTE Technologies President Kim Shearburn said, "Adept Technology is known
for providing the highest quality robotics, powerful controls, advanced
software, and for solving tough automation challenges with innovative
solutions. Our new partnership with Adept Technology leverages Adept's
robotic solutions with HTE's local robotics lab and engineering team to
bring the latest in flexible robotic solutions to our customers across all
industry segments. We are excited to be showcasing our new partnership with
Adept Technology at our World Series of Manufacturing event June 23rd at
Busch Stadium."
For more information about HTE Technologies, please visit
www.htetechnologies.com.
About Adept Technology, Inc.
Adept is a global, leading provider of intelligent robots, autonomous mobile
robot solutions, and services that enable customers to achieve precision,
speed, quality and productivity in their assembly, handling, packaging,
testing, and logistical processes. With a comprehensive portfolio of
high-performance motion controllers, application development software,
vision-guidance technology and high-reliability robot mechanisms with
autonomous capabilities, Adept provides specialized, cost-effective robotics
systems and services to high-growth markets including medical, electronics,
food and semiconductor; as well as to traditional industrial markets
including machine tool automation and automotive components. More
information is available at www.adept.com.
Featured Product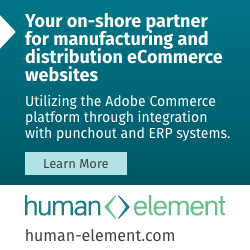 With Human Element, you will build a strategic partnership with experienced on-shore strategists and developers who understand the pain points unique to manufacturers and distributors. Using Agile methodologies and proven eCommerce website development strategies, our team positions clients for success.