Rethink Robotics' Baxter Feeds and Unloads Custom Injection Molding Press
BOSTON, May 12, 2015 -- In an industry where quality and repeatability are critical, Crescent Industries is turning to Rethink Robotics' Baxter to improve consistency and maintain flexibility in its plastic parts molding process.

Working alongside Crescent team members on the company's injection molding press, Baxter shifts quickly between parts and products and ensures that feeding and unloading the press remains on schedule - critical for a precise molding process. With 75 percent of Crescent Industries' products used in the medical device industry, molding precision, fill time and repeatability can literally be a matter of life and death for the company's customers.
"As a custom manufacturer, we're constantly switching between parts and products, and had traditionally been unable to automate our injection presses for that reason," said Shawn Hedrick, process engineer at Crescent Industries. "Operating on a 30-second cycle, Baxter will soon be deployed to handle a variety of parts and improve consistency, ensuring that we meet our high repeatability standards."
By engaging Baxter to load and unload the injection molding press, Crescent Industries plans to shift its employees to more complex jobs and supervisory roles, which helps to improve efficiency in other areas.
Operating at three factory locations in Pennsylvania with 142 total employees, Crescent Industries provides supply chain management for plastic components, devices or machined components through design guidance and support, manufacturing and shipping of the product. Baxter is helping produce a comprehensive range of engineering and commodity resins for medical, pharmaceutical, dental, defense, safety and aerospace uses.
"Custom manufacturers often struggle to implement effective automation, as changes in parts, demand and product specs create problems for traditional robots designed for single-task installations," said Jim Lawton, chief product and marketing officer at Rethink Robotics. "Crescent Industries is a prime example of a company using a robot as a multipurpose workforce enabler, to meet repeatability needs and free up people for more complex tasks."
For more information, please visit www.rethinkrobotics.com.
About Rethink Robotics
Rethink Robotics, Inc. helps manufacturers meet the challenges of an agile economy with an integrated workforce, combining trainable, safe and cost-effective robots with skilled labor. Its Baxter and Sawyer robots, driven by Intera, an advanced software platform, give world-class manufacturers and distributors in automotive, plastics, consumer goods, electronics and other industries a workforce multiplier that optimizes labor. With Rethink Robotics, manufacturers increase flexibility, lower costs and can invest in skilled labor—all advantages in fueling continuous innovation and sustainable competitive advantage.
Committed to accelerating robotics innovation in manufacturing and beyond, Rethink Robotics' Baxter Research Robot gives academic and corporate research environments a humanoid robot platform with integrated sensors and an open software development kit for creating custom applications.
Based in Boston, Mass., the company is funded by GE Ventures, Goldman Sachs, Bezos Expeditions, CRV, Highland Capital Partners, Sigma Partners, Draper Fisher Jurvetson, and Two Sigma Ventures. For more information about Rethink Robotics, please visit www.rethinkrobotics.com.
Featured Product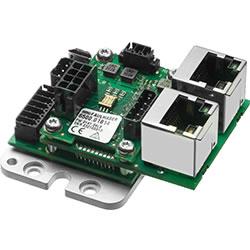 The FAULHABER stepper motor AM3248 raises the bar in terms of performance and dimensions. Offering up to 10,000 rpm, it achieves five times the speed of comparable stepper motors. Combined with a gearhead reduction of 100:1, it supplies a torque of 5 Nm. With a diameter of just 32 mm, it is suited for a wide range of applications in areas such as aerospace, laboratory automation, the semiconductor industry, robotics and 3D printing. Learn more!