The 2015 edition offers over 500 exhibitors
May 8, 2015 -- Noted for its ability to generate flawless toolpath while maintaining ease of use, the SURFCAM computer-aided-manufacturing (CAM) solution by Vero Software will be presented May 12-14 at EASTEC 2015, hosted at the Eastern States Exposition in West Springfield, Massachusetts.

Dedicated to helping northeastern manufacturers remain competitive, EASTEC is regarded as New England's premier manufacturing-industry event. The 2015 edition offers over 500 exhibitors, as well as complimentary conference sessions, presentations from industry experts, and much more.
Guests to EASTEC are welcome to learn more about SURFCAM's 2015 release by visiting booth No. 2862, where demonstrations of the software's latest updates, newest features, and efficiency-boosting capabilities will be presented.
About Surfcam, Inc.
SURFCAM is a powerful and affordable 3D Vero Software CAM solution that achieves the balance between feature sets and ease of use. SURFCAM products have been installed on more than 26,000 systems worldwide during the past 25 years. In that time, SURFCAM has grown to support 15 languages and has gained an outstanding reputation for training and providing the highest level of technical support to its customer base.
Featured Product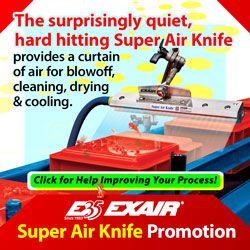 Reversible Drum Vac & High Lift Reversible Drum Vac - Pump 55 gallons in 90 seconds! Two-way pumping action! EXAIR's compressed air operated Reversible Drum Vac and High Lift Reversible Drum Vac attached quickly to any closed head 30, 55, or 110 gallon drum and can fill a 55 gallon drum in less than two minutes. With the simple turn of a knob, the same stainless steel pump quickly empties the drum. High Lift Drum Vac lifts up to 15 feet. Chip Trapper & High Lift Chip Trapper - Vacuums in liquid with solids and pumps out only liquid! Machine tools commonly discharge some chips and shavings into the coolant sump. The Chip Trapper and the High Lift Chip Trapper vacuums coolant or liquid that is filled with debris and traps all the solids in a reusable filter bag, leaving your coolant clean. High Lift Chip Trapper cleans with up to 15 feet of lift. See our current Promotion and all of the other Industrial Vacuums available.