The 2015 edition offers over 500 exhibitors
May 8, 2015 -- Noted for its ability to generate flawless toolpath while maintaining ease of use, the SURFCAM computer-aided-manufacturing (CAM) solution by Vero Software will be presented May 12-14 at EASTEC 2015, hosted at the Eastern States Exposition in West Springfield, Massachusetts.

Dedicated to helping northeastern manufacturers remain competitive, EASTEC is regarded as New Englands premier manufacturing-industry event. The 2015 edition offers over 500 exhibitors, as well as complimentary conference sessions, presentations from industry experts, and much more.
Guests to EASTEC are welcome to learn more about SURFCAMs 2015 release by visiting booth No. 2862, where demonstrations of the softwares latest updates, newest features, and efficiency-boosting capabilities will be presented.
About Surfcam, Inc.
SURFCAM is a powerful and affordable 3D Vero Software CAM solution that achieves the balance between feature sets and ease of use. SURFCAM products have been installed on more than 26,000 systems worldwide during the past 25 years. In that time, SURFCAM has grown to support 15 languages and has gained an outstanding reputation for training and providing the highest level of technical support to its customer base.
Featured Product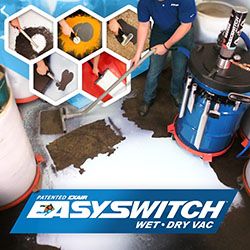 Be sure to attend the latest of EXAIR's webinars. Get educated on pneumatic industrial vacuums so you can break the cycle of replacing electric shop vacuums. Industrial environments often present a continual battle to keep them clean and safe. Unavoidable by-products of manufacturing processes include liquid and solids which often present hazards to personnel, products and processes. Solids may be trim, dusts, or chips from a manufacturing line; liquids may be coolant spills, coating overspray, or even burst packages. Cleaning up these materials often falls on the operators of the equipment who need reliable, adaptable, safe and effective tools for cleanup. Supplying them with tools which fail frequently or do not meet the requirements of the safety team is a recipe for disaster. Attend this webinar to gain an understanding of how pneumatic vacuums can reduce the maintenance, increase reliability, and improve flexibility for your facility. Attend live on May 24th at 2 p.m.