Students experience manufacturing firsthand through gas-to-electric vehicle conversion and creation of underwater remote-operated vehicles.
DEARBORN, Mich. April 30, 2015

SME continues its commitment to attracting future generations to manufacturing through the newly announced Student Summit at THE BIG M event, taking place in Detroit at Cobo Center, June 2-4, 2015. THE BIG M Student Summit, running through the duration of the show, was developed in partnership with the Square One Education Network (Square One) and will feature activities such as vehicle builds that provide hands-on opportunities for students and educators to experience manufacturing technology.
The premier feature of THE BIG M Student Summit is a vehicle build competition Wednesday, June 3. Teams from Bad Axe, Michigan, and Southfield, Michigan, will face off for the third time as student teams uncrate a gas-powered go-kart and convert it to electric power. A winner will be crowned when the vehicle is completely converted to electric power and then driven a predetermined distance. The Bad Axe and Southfield teams previously faced off on two occasions ― Bad Axe won the first competition, while Southfield came from behind to win the second competition.
"We are excited to see the student teams face off in the rubber match during THE BIG M," said Karl Klimek, executive director of Square One. "We have two teams with different backgrounds coming from urban and rural locations that showcase the strength and potential of the future workforce in Michigan, with THE BIG M serving as a platform to help the next generation of professionals translate STEM education into action within high-tech careers in manufacturing."
Square One is a Michigan-based, nonprofit educational grant-funding organization dedicated to inspiring students and teachers in the exploration of science, technology, engineering and mathematics (STEM). Through its education foundation, SME has reached more than 60,000 students with programs that encourage STEM careers. The foundation will be celebrating its 25th anniversary this fall.
"SME remains committed to building the future manufacturing workforce through student programming that creates excitement around manufacturing as a career choice," said Christine Longroy, event manager at SME. "THE BIG M Student Summit will inspire students to experience manufacturing firsthand and see their own potential to create the future of manufacturing in high-tech, high-value careers."
Exhibit floor tours are available to students and educators where SME members will serve as guides. During the tour, students will explore new technologies on the exhibit floor, meet industry experts, network with potential employers and participate in hands-on activities such as a wind-turbine design challenge featuring 3D-printed materials. The vehicle build competition will be complemented by daily workshops where students create an underwater remote-operated vehicle (ROV). Each team will receive lessons, design and build a fully functional ROV, control box, power source and optical system valued at more than $800.
Special student rates are available for THE BIG M. Interested schools can visit bigmevent.com/attend to get more information on pricing and registration.
About THE BIG M
THE BIG M, produced by SME, is designed to convene manufacturers around industry's most vital issues and leverage the power of industry leaders to collaborate and address them. This event demonstrates that manufacturing professionals and companies can shape the future by creating a strong path forward together, connecting people with technology and expertise, affirming the importance of manufacturing, speaking in a unified voice to policymakers and proving that manufacturing is a knowledge industry where creativity is sought and valued. Follow @bigMevent on Twitter or facebook.com/bigmevent.
About SME
SME connects all those who are passionate about making things that improve our world. As a nonprofit organization, SME has served practitioners, companies, educators, government and communities across the manufacturing spectrum for more than 80 years. Through its strategic areas of events, media, membership, training and development, and the SME Education Foundation, SME is uniquely dedicated to the advancement of manufacturing by addressing both knowledge and skills needed for the industry. Follow @SME_MFG on Twitter or facebook.com/SMEmfg.
Featured Product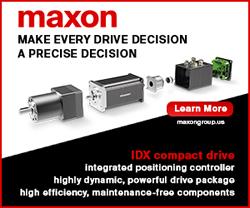 maxon motor launches new high-speed motors that are configurable online. The new ECX brushless motors are quiet and feature very high efficiency. The ECX motors are available with diameters of 8, 16 and 19 mm achieving speeds of up to 120,000 rpm. They run very smoothly and are highly efficient. With maxon motor's online configurator, it is easy to put together a customized DC motor to include gearhead, encoder and controller. The customized motors are ready to ship in 11 days!