This years championship event drew more than 900 student teams from 40 countries around the world.
Research Triangle Park, North Carolina, USA (29 April 2015) - As strategic alliance partners of FIRST (For Inspiration and Recognition of Science and Technology), the International Society of Automation (ISA) and its umbrella organization, the Automation Federation, took part in last weeks FIRST Championship, an annual international celebration of young peoples interest and participation in science and technology.

More than 18,000 students from around the globe, from ages 6 to 18, gathered 22-25 April at the Americas Center Convention Complex and the Edward Jones Dome in St. Louis, Missouri, USA to put their engineering skills and scientific know-how to the test in four different age-specific, team-oriented FIRST programs. This years championship event drew more than 900 student teams from 40 countries around the world.
A centerpiece of the four-day event was the FIRST Robotics Competition (FRC), which combines the excitement of sport with the rigors of designing and building robots. The competition provides students, from grades 9 through 12, with the opportunity to use sophisticated software and hardware, learn from professional engineers, collaborate, earn recognition, and qualify for millions of dollars in college scholarships. In all, more than 75,000 high school students, comprising more than 3,000 teams, participated in 56 FRC regional competitions.
In support of this years FIRST Championship, ISA and the Automation Federation hosted an informational exhibit where student competitors could learn about the automation profession and how to plan for careers in the field.
"This event continues to amaze me each and every time I go," proclaims Steven Pflantz, an electrical and automation engineer and ISA and Automation Federation leader who has now attended all five FIRST Championship events held in St. Louis. "The positive energy from all these kids having fun, being challenged and competing in this way is uplifting and awe inspiring. This is a remarkable and talented group of young people, and a lot of them are potential future automation professionals."
Pflantz was among a select group of practicing automation professionals from the St. Louis area---volunteering on behalf of ISA and the Automation Federationā€"that met with FIRST competitors and their family members to answer questions about career opportunities in automation and engineering.
Joining Pflantz, an Associate at CRB Consulting Engineers, at the ISA/Automation Federation exhibit were:
* Carrie Tietjen - Process Automation Consultant, Experitec, Inc.
* Cory Kniepp - Sr. District Sales Manager Central Plains Region, Emerson Industrial Automation, ASCO Numatics
* Nick Erickson- Sales Representative, Instrumentation & Controls, Mead OBrien
* Michael Unterreiner - Sr. Process Specialist, Emerson Industrial Automation, ASCO Numatics
* Gregg Dougan - Account Manager, Experitec, Inc.
* Frank McCormack - ā€ŽPrincipal Controls Engineer, EPIC Systems, Inc.
"All of us came away highly impressed with how many of these young people are already mapping out their future plans," Pflantz reports. "Based on the positive energy they are generating and the commitment they are demonstrating, I feel there are no limits or boundaries these students cannot reach."
In addition to inspiring STEM-centered creativity and inventiveness, Pflantz says FIRST competitions help cultivate the practical skills that are required to succeed in the workplace.
"Its not all just about building robots," he points out. "Because FIRST stresses the importance of planning, project management and collaboration, these young people are gaining vital real-world experiences they can put to use in their future careers."
A positive job market for automation and engineering professionals
Career options are bright in engineering and automation because the demand for qualified employees in these fields far outstrips availability. In the US, the number of science and engineering jobs over the past decade has grown three times more quickly than jobs in other sectors.
At the same time, colleges and universities arent producing enough graduates to fill the jobs. Just half of college students who start with a science- or math-related major graduate with this type of degree, according to a recent report from the US Department of Commerce.
By one estimate, the US alone will need more than 120 million workers with advanced manufacturing skills by 2020. At the current pace, America will prepare less than half of that number.
Pflantz emphasizes that more needs to be done to encourage STEM learning among young people and to expand awareness about careers in automation and engineering.
"Automation and control professionals need to get the word out about the advantages of pursuing a career path in engineering and automation," Pflantz declares. "As working professionals, we can play an important role in helping young people decide what to do, and make better decisions as well as providing mentorship during the initial phases of their careers."
About FIRST
Accomplished inventor Dean Kamen founded FIRST (For Inspiration and Recognition of Science and Technology) in 1989 to inspire an appreciation of science and technology in young people. Based in Manchester, N.H., FIRST designs accessible, innovative programs to build self-confidence, knowledge, and life skills while motivating young people to pursue opportunities in science, technology, and engineering.
With support from over 200 of the Fortune 500 companies and more than $20 million in college scholarships, the not-for-profit organization hosts the FIRST Robotics Competition (FRC) for students in Grades 9-12; FIRST Tech Challenge (FTC ) for Grades 7-12; FIRST LEGO League (FLL ) for Grades 4-8; and Junior FIRST LEGO League (Jr.FLL) for Grades K-3. Gracious Professionalism is a way of doing things that encourages high-quality work, emphasizes the value of others, and respects individuals and the community. To learn more about FIRST, go to www.usfirst.org.
About the Automation Federation
The Automation Federation is a global umbrella organization of sixteen (16) member organizations and six working groups engaged in automation activities. The Automation Federation enables its members to more effectively fulfill their missions, advance the science and engineering of automation technologies and applications, and develop the workforce needed to capitalize on the benefits of automation. The Automation Federation is the "Voice of Automation." For more information about the Automation Federation, visit www.automationfederation.org.
About ISA
The International Society of Automation (www.isa.org) is a nonprofit professional association that sets the standard for those who apply engineering and technology to improve the management, safety, and cybersecurity of modern automation and control systems used across industry and critical infrastructure. Founded in 1945, ISA develops widely used global standards; certifies industry professionals; provides education and training; publishes books and technical articles; hosts conferences and exhibits; and provides networking and career development programs for its 36,000 members and 350,000 customers around the world.
ISA owns Automation.com, a leading online publisher of automation-related content, and is the founding sponsor of The Automation Federation (www.automationfederation.org), an association of non-profit organizations serving as "The Voice of Automation." Through a wholly owned subsidiary, ISA bridges the gap between standards and their implementation with the ISA Security Compliance Institute (www.isasecure.org) and the ISA Wireless Compliance Institute (www.isa100wci.org).
Featured Product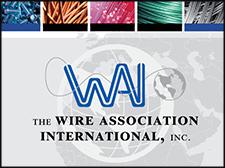 The Wire Association International (WAI), Inc., founded in 1930, is a worldwide technical society for wire and cable industry professionals. Based in Madison, Connecticut, USA, WAI collects and shares technical, manufacturing, and general business information to the ferrous, nonferrous, electrical, fiber optic, and fastener segments of the wire and cable industry. WAI hosts trade expositions, technical conferences, and educational programs.