Scholarships Given in Honor of Bishop-Wisecarver Founder, Bud Wisecarver, and his Naturalist Brother, Bob Cooke Wisecarver
Pittsburg, Calif. - April 29, 2015 - Bishop-Wisecarver Group, a WBENC-certified, woman-owned family of companies that offer guidance solutions, contract specialty manufacturing and mechatronic-based engineering services, announced it is providing two $1000 scholarships for Eagle Scouts from the Mt. Diablo Silverado Council in honor of Bud Wisecarver, founder of Bishop-Wisecarver, and his late brother, Bob Cooke Wisecarver, an Eagle Scout and naturalist in the Bay Area. The scholarships will be awarded at the annual Eagle Scout, Quartermaster, Silver Award Recognition Banquet on May 7, 2015, 6:00 p.m. at the Crow Canyon Country Club in Danville, Calif.

Las Aguilas de Diablo, a group of adult Eagle Scouts that organize this annual dinner to honor Eagle Scouts and provide support to the Councils endowment fund, sponsors the event. Local Scouts, businesses, professional and civic leaders will also join as hosts to honor Scout accomplishments and provide a networking opportunity for Scouts to meet adult sponsors that match their career interests. Pamela Kan, president of Bishop-Wisecarver Group, will attend the dinner and serve as a sponsor, sharing the highlights, challenges and requirements of a career in the manufacturing industry.
"We are honored to provide these scholarships and help Eagle Scouts that have already proven they are hardworking, dedicated and committed to serving others," said Kan. "Giving financial support, as well as career insight and mentoring, carries on a family tradition of Scout and community involvement as my father and uncle were both Scouts and professionals who used their skills and passion to teach younger generations."
The Wisecarver brothers were raised in Berkeley, Calif. after WWI and stayed in the Bay Area during their respected careers in manufacturing. After retiring, Bud focused his efforts on the need for vocational training in schools and finding ways to bridge the gap between the business and educational communities. Bobs retirement years were focused on his love of the outdoors and he was a founding member of the Diablo Valley Fly Fisherman's Association and an active member of Mt. Diablo Audubon and Walnut Creek Open Space Foundation. He was respectfully called "Bat House Bob" for his unique research and successful efforts in building habitats for bats.
"Each year, we award up to $7000 in scholarships funded through the Scouts, business and private donations," said Bill Upson, president of Strategic Asset Management Group and vice president of Las Aguilas de Diablo. "When companies like Bishop-Wisecarver Group make an investment of time and money into our Scouts, its a long-lasting benefit to the recipients, donor and community. These Eagle Scouts have already shown great determination and civic duty and these scholarships and networking opportunities provide the extra support that can help them realize their long term goals."
The Mt. Diablo Silverado Council, Boys Scouts of America includes more than 18,000 Scouts, Cubs, Venturers and Sea Scouts and 10,000 volunteers covering regions from San Ramon, Calif. in the south through Lake County, Calif. in the north. This annual dinner serves as a fundraiser for next years scholarships and everyone is invited to attend. Tickets can be purchased at http://www2.bwc.com/e/24522/lumni-eagle-recognition-dinner/ysln2/635834639. Adult Eagle Scouts interested in becoming part of Las Aguilas de Diablo are welcome and should contact Bob Upson at 925-408-1940.
Featured Product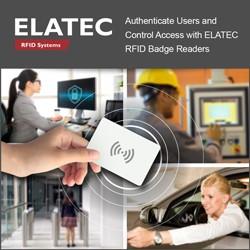 With a tap of the badge, RFID readers from ELATEC provide secure, reliable and easy-to-use user authentication, access control and usage tracking of hardware and software in industrial automation processes. Reader durability in harsh plant floor environments is another essential feature. Choose the right authentication and access control solution and extend RFID card-based capability for the access control of PLC, robot and HMI automation controller software and devices requiring special operator training.