IT Robotic Automation Market (RPA Tools and RPA Services) - Global Industry Analysis, Size, Share, Growth, Trends and Forecast 2014 - 2020
Much has been said and written about how automation is the future of virtually every industry. The IT industry is no exception. This sentiment is further corroborated by a recent market research report, which states that the global IT robotic automation market will exhibit an unprecedented CAGR of 60.5% from 2014 through 2020. IT robotic automation approximated US$ 183.1 million as of 2013.

The quick facts about the growth story of the IT robotic automation market:
Through the last decade, industrial and manufacturing sectors have been transformed by implementing robotic automation. This sweeping change is now being seen in the IT industry as well.
There is much excitement in the IT industry about the potential that robotic software carries in eliminating the offshore business model. Industry experts expect that the IT robotic automation market could also lead to a rise in automated efficiency.
It comes as no surprise then that the concept of IT robotic automation has caught the attention of leading companies in the IT industry. The business process outsourcing (BPO) segments is predicted to see the highest adoption of robotic process automation over the next two to three years.
Robotic Process Automation Services Leads IT Robotic Automation Market, Much Thanks to BPO Sector
The global IT robotic automation market can be segmented on the basis: Type, tools for process automation, services for process automation, and geographical region. According to 2013 estimates, the segment of robotic process automation led the global IT robotic automation market mainly because of strong partnership deals between IT services companies and RPA tool providers. Since these two entities have strong business engagement models with each other, the development of the RPA services market is directly determined by the degree of development of RPA technology. Over the next five years, the BPO sector will see high adoption of RPA, which will in turn significantly support market growth.
North America and Europe are Key Influencers in the Global IT Robotic Automation Market
When considered from the revenue standpoint, the two leading geographical markets globally are Europe and North America, as of 2013. Most companies that offer RPA tools first go to the U.S., where there is a higher acceptance and need for automated software. The conditions in this market are also suitable for the development of the IT robotic automation market. In the case of Europe, on the other hand, the 'near shore model of business outsourcing is catching on. This new service model is based on the higher use of robots for automating processes, supported by specialist FTEs.
The potential for the growth of the IT robotic automation market in Asia Pacific looks promising too. Countries such as India, which already possess a strong founding in IT services, are expected to lead the APAC IT robotic automation market. Recently, IPSoft, Inc., a prominent player in the IT robotic automation industry, signed a agreements with Indian IT companies such as Cognizant Technology Solutions and Infosys, Ltd. for the implementation of the formers RPA technology.
IT Robotic Automation Market will See New Entrants Competing for Larger Share
The larger IT robotic automation market comprises can be divided into companies providing RPA technology and RPA services.
Leading names under the RPA technology providers are: Blue Prism, Be Informed B.V., IPSoft, Inc., Appian Corporation, and Automation Anywhere Inc. A few notable RPA service providers are: Sutherland Global Services, Accenture plc, Tata Consultancy Services, Cognizant Technology Solutions, Hewlett Packard Company and Infosys Limited.
A number of new entrants are expected to make their presence felt in the market over the next four to five years. While there is currently much concentration in the RPA tool market, the RPA service market has a fragmented nature owing to the many companies vying for market share.
Browse Full Global IT Robotic Automation Market Report With Complete TOC @ http://www.transparencymarketresearch.com/it-robotic-automation-market.html
Featured Product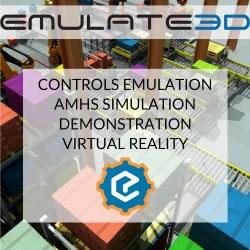 Emulate3D software helps you model and test your AMHS solutions rapidly. Use Demo3D to create running models quickly, then generate videos, stills, or view the models in virtual reality at the click of a button. Sim3D enables you to carry out experimental test runs to select optimal solutions and the most robust operating strategy, and Emulate3D Controls Testing is the best way to debug your PLCs offline, and off the project's critical path. Connect to major PLCs, import CAD, and plug into HTC Vive and Oculus Rift to produce awesome models!