Follow Grant as he openly shares his thoughts with the engineering community and the public by visiting the Bench Talk blog and subscribing to the RSS feed on Mouser.com.
DALLAS & FORT WORTH, Texas--Mouser Electronics, Inc., the global authorized distributor with the newest semiconductors and electronic components, is partnering with Grant Imahara to release a blog by the celebrity engineer on Mousers popular Bench Talk for Design Engineers site. The blog captures Grants views on technology, robotics, and just about anything on his mind.

Follow Grant as he openly shares his thoughts with the engineering community and the public by visiting the Bench Talk blog and subscribing to the RSS feed on Mouser.com. The Grant blog is part of the Empowering Innovation Together™ program, where engineers can learn more about a variety of topics that question and defy innovation in the pursuit of new ideas.
Followers can tap into Grants creative mind as he explores a wide range of topics and offers his point-of-view, advice and expertise based on his life experiences as an engineer, celebrity and lover of technology. The first blog installment from Grant focuses on a topic close to his heart - Robotics. Read about his views on how far weve come in the field of robotics, how he remembers getting into robotics as a kid, and what we have to look forward to as innovation continues to push the boundaries of technology and offer endless robotic application possibilities. To subscribe to the Bench Talk blogs from Grant and other bloggers, go to www.mouser.com/blog.
"This blog is a great medium for me to connect to the engineering community and the public," said Grant Imahara. "Ive had many fans ask me to document my various life experiences and personal thoughts - from my early engineering days, to my time on Mythbusters and Battlebots, up to what Im working on today with Mouser Electronics - so what better way to capture all these than through a blog that I can share with each of you on a regular basis."
The Grant blog and the Robotics Empowering Innovation Challenge is part of the Empowering Innovation Together program - a way that Mouser and Grant Imahara are connecting engineers through innovation and creativity that defines engineering design. The Robotics Program is sponsored by Platinum Program Partner Texas Instruments. Also joining in the sponsorship are Molex and Panasonic as Diamond-Level partners.
Well known in the engineering community, Grant Imahara has paired his engineering expertise with a Hollywood TV and film career. In addition to his roles on Mythbusters and Battlebots, Grant has worked on many famous robotic characters - including R2-D2 in the Star Wars prequels, The Late Late Shows Craig Ferguson robot skeleton sidekick - Geoff Peterson, and the Energizer Bunny. He joins the Mouser team as a collaborator and spokesperson who shares Mousers passion to positively influence and support innovative design.
To learn more about Grant Imahara, the Empowering Innovation Together program and Mouser partnership, visit www.mouser.com/empoweringinnovation.
With its broad product line and unsurpassed customer service, Mouser caters to design engineers and buyers by delivering Whats Next in advanced technologies. Mouser offers customers 20 global support locations and stocks the worlds widest selection of the latest semiconductors and electronic components for the newest design projects. Mouser Electronics website is updated many times per day and searches more than 10 million products to locate over 4 million orderable part numbers available for easy online purchase. Mouser.com also houses an industry-first interactive catalog, data sheets, supplier-specific reference designs, application notes, technical design information, and engineering tools.
About Mouser Electronics
Mouser Electronics, a subsidiary of TTI, Inc., is part of Warren Buffett's Berkshire Hathaway family of companies. Mouser is an award-winning, authorized semiconductor and electronic component distributor, focused on the rapid introduction of new products and technologies to electronic design engineers and buyers. Mouser.com features more than 4 million products online from more than 500 manufacturers. Mouser publishes multiple catalogs per year providing designers with up-to-date data on the components now available for the next generation of electronic devices. Mouser ships globally to over 500,000 customers in 170 countries from its 492,000 sq. ft. state-of-the-art facility south of Dallas, Texas. For more information, visit http://www.mouser.com.
Featured Product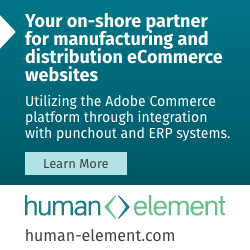 With Human Element, you will build a strategic partnership with experienced on-shore strategists and developers who understand the pain points unique to manufacturers and distributors. Using Agile methodologies and proven eCommerce website development strategies, our team positions clients for success.