More than 1,000 high school students expected to attend event in College Park
COLLEGE PARK, Md., March 31, 2015 -- The University of Maryland and FIRST will host the 2015 Chesapeake Regional FIRST Robotics Competition (FRC) April 2-4, 2015, at the XFINITY Center on the university's College Park, Md., campus. More than 1,000 high school students from Maryland, around the country, and from three other countries will go head-to-head to secure a spot in the international competition.

Each January, FIRST, a non-profit organization aimed at inspiring young people to be science and technology leaders, kicks off the competition season by announcing a new game to be played at 56 regional competitions around the world. Teams receive a kit of common parts that are used to build the core systems of a robot. Students work with hundreds of components, including programmable radio controllers, motors, electrical circuitry and mechanical parts, to build and program their robot for the competition. The teams have six weeks to conceptualize, design, and build a robot before entering a regional competition. Winners from each of the regional competitions will go on to compete at the FIRST Championship in St. Louis, Mo., at the end of April.
This year's game, Recycle RushSM, is played by Alliances of three teams each who compete to stack as many totes and cap them with recycling containers as possible within a two and a half minute match. Points are earned based on the height of stacks capped by recycling containers and teamwork between robots. In 2013, Team Illusion 4464, a FIRST Robotics Competition team comprised of middle and high school students from Maryland and mentored by Clark School of Engineering students, advanced to the FIRST Championship.
The Chesapeake Regional FRC is open to the public Thursday, April 2 through Saturday, April 4. Teams will spend most of April 2 preparing, while the competition will take place April 3 and 4. UMD's A. James Clark School of Engineering Dean and Farvardin Professor, Dr. Darryll Pines, will deliver remarks and help kick off the competition events at 8:30 am on April 3. Participating Chesapeake Regional FRC students will have the opportunity to learn more about the University of Maryland and the engineering programs available through the Technology Lounge at the event.
Guests are encouraged to register for the FIRST Stop program to see the competition action up close, meet the teams, and learn more about K-12 FIRST programs.
Register for the FIRST Stop guest program.
About FIRST
Accomplished inventor Dean Kamen founded FIRST (For Inspiration and Recognition of Science and Technology) in 1989 to inspire an appreciation of science and technology in young people. Based in Manchester, N.H., FIRST designs accessible, innovative programs to build self-confidence, knowledge, and life skills while motivating young people to pursue opportunities in science, technology, and engineering. With support from over 200 of the Fortune 500 companies and more than $19 million in college scholarships, the not-for-profit organization hosts the FIRST Robotics Competition (FRC ) for students in Grades 9-12; FIRST Tech Challenge (FTC ) for Grades 7-12; FIRST LEGO League (FLL) for Grades 4-8; and Junior FIRST LEGO League (Jr.FLL) for Grades K-3. Gracious Professionalism is a way of doing things that encourages high-quality work, emphasizes the value of others, and respects individuals and the community. To learn more about FIRST, go to www.usfirst.org.
About the University of Maryland
The University of Maryland is the state's flagship university and one of the nation's preeminent public research universities. A global leader in research, entrepreneurship and innovation, the university is home to more than 37,000 students, 9,000 faculty and staff, and 250 academic programs. Its faculty includes three Nobel laureates, two Pulitzer Prize winners, 49 members of the national academies and scores of Fulbright scholars. The institution has a $1.8 billion operating budget, secures $500 million annually in external research funding and recently completed a $1 billion dollar fundraising campaign.
About the A. James Clark School of Engineering
The University of Maryland's A. James Clark School of Engineering is a premier program, ranked among the top 20 in the world. Located just a few miles from Washington, D.C., the Clark School is at the center of a constellation of high-tech companies and federal laboratories, offering students and faculty access to unique professional opportunities. Our broad spectrum of academic programs, including the world's only accredited undergraduate fire protection engineering program, is complemented by a vibrant entrepreneurial ecosystem, early hands-on educational experiences, and participation in national and international competitions. The Clark School is leading research advancements in aerospace, bioengineering, robotics, nanotechnology, disaster resilience, energy and sustainability, and cybersecurity. From the universal product code to satellite radio, SMS text messaging to the implantable insulin pump, our students, faculty, and alumni are engineering life-changing innovations for millions. Facts, figures, and more information can be found at www.eng.umd.edu.
Featured Product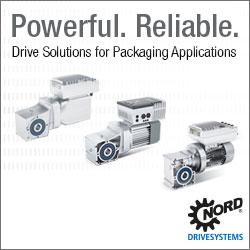 NORD's redesigned line of small CLINCHER parallel gear units showcase increased power and torque capacity for a variety of applications. These re-engineered versions will be replacing the existing SK0182NB, 0282NB, and 1382NB units. They are lightweight, have improved heat dissipation, are more cost-effective, and are available with NORD nsd tupHTM sealed surface conversion for wash-down and extreme environments.