Professional providing robotic & automation EOAT modules and components for any industry adopting. Especially for EOAT modules, Cups, Cup with adapters, Mounting Clamps, Gripper Mounting Arms, Suspensions, Sprue Grippers, Gate Cutters, Air fittings and etc. It can get from website by credit card/ debit card and shipped to US any state in a short time.
CGS Automation Inc providing end of arm tooling modules and components for any brand of robotic arms using.

Because they are more standardized and they are easily to plug and function without any problem. For example Mounting clamps have 5 different types like Swivel Cross Clamp, Angle Clamp, Angle Plate, Swivel Angle Clamp, Swivel Vacuum Cup Connector. And Gripper Mounting Arms have Angle Arm, Elbow Arm, Gripper Arm, Elbow Gripper Arm, Spring Loaded Elbow Arm. In above items also have matching items like Gripper Mounting Arms, Cups, Cup with Adapters, Holders, Suspensions and etc. Not only we described above items but also showed demostration in CGS Automation website so you can easily find it and buy it. No need any expert, you can do it by yourself.
Right now, You do not have to pay more money for EOAT modules or components, you can get them from CGS Automation Inc website.
Featured Product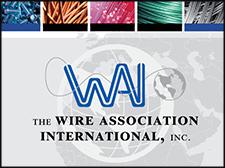 The Wire Association International (WAI), Inc., founded in 1930, is a worldwide technical society for wire and cable industry professionals. Based in Madison, Connecticut, USA, WAI collects and shares technical, manufacturing, and general business information to the ferrous, nonferrous, electrical, fiber optic, and fastener segments of the wire and cable industry. WAI hosts trade expositions, technical conferences, and educational programs.