Trimble\'s Connected Farm dashboard, a Web portal that provides one central location for farmers to view key information impacting their operations.
SUNNYVALE, Calif., March 17, 2015 -- Trimble (NASDAQ: TRMB) announced today that it is providing farmers with enhanced commodities markets information as part of its Connected Farm solution powered by DTN/The Progressive Farmer. The information is available to all farmers using Trimble\'s Connected Farm dashboard, a Web portal that provides one central location for farmers to view key information impacting their operations. With this enhancement, Trimble continues to make Connected Farm a trusted source of quality information for growers.

In the commodities section of the Connected Farm dashboard, farmers are now able to view local cash bid prices by postal code and futures market commodity prices delayed by only 10 minutes. This gives users the ability to monitor the value of their crops so they are better able to determine when and where they should be selling them in order to maximize profits.
In the Connected Farm dashboard, farmers can also view their weather forecast, daily rainfall totals, Doppler radar maps, farming tasks, field boundaries, fleet locations and monitor irrigation systems. With this information, farmers are able to make more informed management decisions for their farming operation. For example, knowing daily rainfall totals can help growers determine whether to run irrigators or not, or determine a specialized irrigation prescription based on differing rainfall amounts across the field. The Connected Farm dashboard is customizable and accessible via Internet-enabled devices such as desktop and notebook personal computers, smartphones and tablets, and the Trimble TMX-2050 display.
\"With the enhanced commodities information now available on the Connected Farm dashboard, Trimble is providing tools that can enable farmers to make timely decisions around commodities pricing to maximize their profits,\" said Levi Kettle, business area director of Trimble\'s Agriculture Division. \"By offering this information to all Connected Farm users, and in one location, we are providing farmers with a convenient place to view important data that can impact their operations.\"
The Connected Farm dashboard is a free Web portal. To set up an account, visit: www.connectedfarm.com. To view rainfall totals, monitor irrigation systems or for fleet management, customers will need to purchase these services. Locate a Trimble reseller at www.trimble.com/locator for more information.
Trimble\'s Connected Farm solution includes a robust suite of recently announced features including variable rate prescription mapping tools for the farmer and advisor as well as a financial profit and loss summary for each field.
About DTN/The Progressive Farmer
DTN/The Progressive Farmer is revolutionizing the agriculture industry with its game-changing agricultural information solutions and market intelligence that enable customers to actively and effectively manage their businesses. The company\'s insightful, independent content along with proprietary business management tools and in-depth market analysis empower better decision making from today\'s forward-looking agricultural producers, agribusiness leaders and commodity market traders. For the latest editorial, weather and market information or more on all DTN/The Progressive Farmer services, visit: dtnprogressivefarmer.com. Follow DTN/The Progressive Farmer on Facebook at: facebook.com/DTNProgressiveFarmer and on Twitter at @DTNPF.
About Trimble\'s Agriculture Division
Trimble Agriculture solutions help customers maximize efficiency and reduce chemical and fertilizer inputs while also protecting natural resources and the environment. Trimble\'s precision agriculture solutions cover all seasons, crops, terrains, and farm sizes, and its brand-agnostic strategy allows farmers to use Trimble products on most vehicles in their fleet—regardless of manufacturer. To help farmers better manage and make decisions with their data, Trimble offers the Connected Farm solution that allows farmers to collect, share, and manage information across their farm in real time. To help optimize water use, Trimble provides water solutions for irrigation, drainage, and land leveling. Trimble\'s product suite includes vehicle and implement guidance and steering, as well as a portfolio of correction options that are the most versatile of their kind in the industry. Additional solutions include an unmanned aircraft system (UAS) for aerial imaging and mapping, application control for seed, liquid, and granular products; a harvest solution; and farm management software.
For more information on Trimble Agriculture, visit: www.trimble.com/agriculture.
About Trimble
Trimble applies technology to make field and mobile workers in businesses and government significantly more productive. Solutions are focused on applications requiring position or location—including surveying, construction, agriculture, fleet and asset management, public safety and mapping. In addition to utilizing positioning technologies, such as GPS, lasers and optics, Trimble solutions may include software content specific to the needs of the user. Wireless technologies are utilized to deliver the solution to the user and to ensure a tight coupling of the field and the back office. Founded in 1978, Trimble is headquartered in Sunnyvale, Calif.
For more information, visit: www.trimble.com.
Featured Product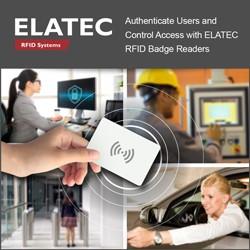 With a tap of the badge, RFID readers from ELATEC provide secure, reliable and easy-to-use user authentication, access control and usage tracking of hardware and software in industrial automation processes. Reader durability in harsh plant floor environments is another essential feature. Choose the right authentication and access control solution and extend RFID card-based capability for the access control of PLC, robot and HMI automation controller software and devices requiring special operator training.