Booth will include new and historic products
AUBURN HILLS, Mich., March 16, 2015 -- DE-STA-CO will kick off its 100th anniversary celebration at Automate next week by looking back on the company's history, while also introducing innovative new products for OEMs and end-users. All Automate attendees are invited to stop by DE-STA-CO booth #632 at 1 p.m. on Tuesday, March 24, for refreshments, giveaways and entertainment in honor of the company's centennial. The Automate trade show takes place March 23-26 at McCormick Place North in Chicago.

"DE-STA-CO has a long history of innovation, which includes the invention and patent of the first manual toggle clamp," says Darren Greene, director, global marketing and business intelligence for DE-STA-CO. "Our Automate booth will feature historic DE-STA-CO products and literature, as well as a video retrospective showing how the company has grown to become an industry leader. And while it is nice to look back on our past, we have not stopped finding solutions for our customers. There will be several new products for attendees to see in action."
The DE-STA-CO booth will feature the latest parts developed for the Accelerate Collection of lightweight tooling, including new transfer press components, clamps and mounts. These new elements were created to provide customers with more options for increasing automated press room stamping line speed. Accelerate Collection parts can be used to build lightweight end effectors that can provide speed gains of up to 30 percent.
Two new CAMCO-brand E-Series indexers that are under development will be previewed at the show and programmed for demos. One, the new MDE medium-duty indexer, will be mounted on top of the other, a servo-driven HDE heavy-duty indexer, to show both products' capabilities at once. E-Series indexers are designed to move a variety of products and components at exact intervals to precise locations.
Other product demos in the DE-STA-CO booth will include the new Robohand G100 Series pneumatic parallel gripper and 82M-3E Series enclosed pneumatic power clamp.
To learn more about these or any other automation products from DE-STA-CO, stop by DE-STA-CO booth #632 at Automate, visit destaco.com or call (888) DESTACO (888-337-8226). DE-STA-CO's 100th anniversary celebration at 1 p.m. on Tuesday, March 24, is open to all Automate attendees. DE-STA-CO is also active on Facebook, facebook.com/destaco and Twitter, @destacochat.
About DE-STA-CO
DE-STA-CO is a global automation and workholding company that has provided productivity solutions to the manufacturing industry since 1915. Quality, innovation and service have made DE-STA-CO a leader in the design and manufacture of cost-reducing, flexible automation solutions for industrial customers around the world. The company is committed to the Team DE-STA-CO philosophy, a progressive approach to doing business that focuses on providing consistent, standard-setting service and products to every customer, regardless of geographic location.
Featured Product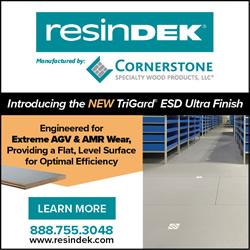 To maximize the productivity of an autonomous mobile robot (AMR) or automatic guided vehicle (AGV) deployment, it's critical to create the optimal environment that allows the vehicles to perform at their peak. For that reason, Cornerstone Specialty Wood Products, LLC® (www.resindek.com) created the TriGard® ESD Ultra finish for its ResinDek® engineered flooring panels. The TriGard ESD Ultra finish is ideal for high-traffic robotic applications characterized by highly repetitive movement patterns and defined travel paths.