ThingMagic Nano Joins Mercury6e Series to Offer Customers Multiple Options for RFID Reader Development
SUNNYVALE, Calif., March 12, 2015 -- Trimble (NASDAQ: TRMB) introduced today the latest embedded UHF RFID module in its ThingMagic Mercury 6e series—the ThingMagic Nano. The new module joins the M6e, Micro and Micro-LTE in offering customers the widest range of options for adding UHF RFID into a product or solution. The Mercury6e series now offers reader modules in several configurations, allowing customers to develop a variety of applications ranging from high performance to small form factor, depending on their specific needs. In addition, customers who have already developed a solution using a module in the M6e series can take advantage of ThingMagic's universal API when developing a new reader with the ThingMagic Nano.

"One advantage of using the M6e series of modules in an RFID solution is that the API works across all of the modules and our finished readers," said David Emma, vice president of sales, marketing and engineering of ThingMagic. "This means that a customer can design different types of readers for different uses within the same RFID solution. Because the API is universal, once the customer writes the software it is extensible throughout all the modules. Customers can build a handheld device, a fixed reader or other RFID device using different modules to suit their needs without having to re-write the software for each individual reader."
ThingMagic Nano is the smallest form factor module available to customers in the M6e series. With its very low power consumption, the module offers a wide RF output range that is important for the read/write requirements for battery-operated RFID-enabled printers, tag commissioning stations, product authentication and access control readers. The module's low cost makes it a viable option for customers seeking to develop a reader that is cost efficient yet reliable. ThingMagic's extensive development experience in chip design and depth of RFID knowledge delivers valuable, real-world features and give customers an advanced set of tools to develop innovative RFID-based solutions.
"The ThingMagic Nano is the newest module that we have designed into our products and it is an excellent UHF RFID solution," said Ramir De Porrata-Doria, CEO of Keonn Technologies. "The performance for such a small form factor is ideal and we love the flexibility of the solution. Because we have designed other products with ThingMagic's M6e series modules, the transition to build in this new, smaller module was seamless and enables us to expand our portfolio to include smaller readers." Keonn Technologies is a manufacturer of RFID-based systems and components for a broad range of industries, including retail, healthcare, libraries and logistics.
A Commitment to Performance and Ease-of-Use
In addition to the new ThingMagic Nano, the ThingMagic Mercury6e series includes the M6e, the Micro and the Micro-LTE. The 4-port M6e offers performance to meet the requirements of the most demanding fixed position multi-antenna reader application, delivering the highest read rate and RF power. The M6e transmits up to +31.5 dBm and can read more than 750 tags/second. The 2-port Micro and Micro-LTE delivers the form factor, efficiency, RF power and flexibility needed to embed UHF RFID in portable or handheld applications. The Micro reads more than 750 tags/second and the Micro-LTE is optimized for applications with small tag populations that require a read rate of no more than 50 tags/second. Both have an RF power output range of -5 to +30 dBm. In addition, adjustable power consumption settings of the Micro and Micro-LTE provide extended battery life for handheld readers and other mobile devices. The ThingMagic Nano has an RF power output for read/write levels from 0 dBm to 27 dBm. It reads up to 10 feet with a tag read rate of up to 200 tags/second. Nano has a very small form factor and measures just 22 L x 26 W x 3.0 mm H, which is approximately the size of a postage stamp.
Development tools available with all ThingMagic RFID modules include: the ThingMagic Universal Reader Assistant utility used to initialize readers and perform common tasks such as selecting application specific performance settings; the Mercury API Software Development Kit (SDK) with sample applications and source code to help developers get started demonstrating and developing functionality; and a full hardware development kit for rapid prototyping. Also available is the Mercury xPRESS Sensor Hub, a flexible development platform designed to enable customers to rapidly create cost effective finished reader products.
Pricing and Availability
ThingMagic Nano is expected to be available in the second quarter of 2015. For information on new pricing and volume discounts, contact ThingMagic sales at: sales@thingmagic.com or +1-866-833-4069. International dialers call +1 617-499-4090.
About Trimble's ThingMagic Division
Trimble's ThingMagic Division is a leading provider of UHF RFID reader engines, development platforms and design services for a wide range of applications. ThingMagic develops products for demanding high-volume applications and provides consulting and design services to create solutions for challenging applications. ThingMagic's customers include some of the world's largest industrial automation firms, manufacturers, automotive companies, retailers and consumer companies. Located in Woburn, Massachusetts, the ThingMagic business was founded in 2000 by a group of visionary PhD graduates from Massachusetts Institute of Technology's Media Lab. ThingMagic is "The Engine in RFID".
For more information, visit: www.thingmagic.com.
About Trimble
Trimble applies technology to make field and mobile workers in businesses and government significantly more productive. Solutions are focused on applications requiring position or location—including surveying, construction, agriculture, fleet and asset management, public safety and mapping. In addition to utilizing positioning technologies, such as GPS, lasers and optics, Trimble solutions may include software content specific to the needs of the user. Wireless technologies are utilized to deliver the solution to the user and to ensure a tight coupling of the field and the back office. Founded in 1978, Trimble is headquartered in Sunnyvale, Calif.
For more information, visit: www.trimble.com.
Featured Product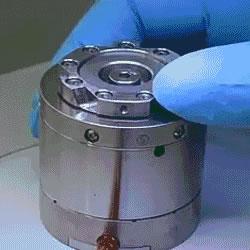 PI provides standard and custom linear, rotary, and spherical air bearing systems. They are available with 3-phase motors or voice coil motors, integral optical linear encoders. Our air bearings / and systems serve OEM, industrial, and research markets.