Automate 2015, held from March 23 to 26 at Chicagos McCormick Place North
CLINTON TOWNSHIP, Mich., March 13, 2015 - Harry Major Machine (HMM), a leader in the design, manufacture, installation and support of custom automated systems and machines for more than half a century, will be introducing a new cableless gantry technology - the first of its kind in North America - and displaying innovative automated part handling technologies at its booth (#1024) during Automate 2015, held from March 23 to 26 at Chicagos McCormick Place North.

"Were thrilled to be displaying our latest technologies and services at Automate 2015," said H. Curtis Major, President, HMM. "As a company that provides custom, complete automated systems and support to manufacturing companies around the globe, Automate is the perfect event for us to showcase our solutions and network with leaders in the industry."
HMM supplies to a wide range of global industries including the automotive industry, and is the exclusive source in North America for the state-of-the-art cableless gantry, which is made by MAXROTEC. The gantry will operate at the HMM booth, marking the first time HMM has shown the technology publicly.
In addition, the company will also showcase and discuss several of its other technologies at Automate 2015, including its solutions in the areas of automated parts handling systems, industrial parts washers and assembly machines. Visitors to the booth will be able to discuss the full spectrum of HMMs services and products with company representatives.
Automate is the largest solutions-based showcase of automation technologies in North America. The show is held once every two years and demonstrates the full spectrum of automation technologies and solutions for a broad array of industries. Attendees will be able to view live demonstrations from leading global suppliers that provide integration of automation, robotics and machine vision. Comprehensive educational conferences will also be presented. For more information about the show or to register for free, please visit: www.automateshow.com
About Harry Major Machine
Founded in 1962 and headquartered in Clinton Twp., Mich. with a European division based in the United Kingdom, HMM provides custom, complete automated systems to manufacturing companies around the globe. HMMs custom solutions range from robot integration, assembly systems, conveyors, washers and dunnage handling systems. The companys systems are supported by HMMs system engineering and integration, mechanical design, controls design, and equipment installation services. Learn more at http://www.harrymajormachine.com/
Featured Product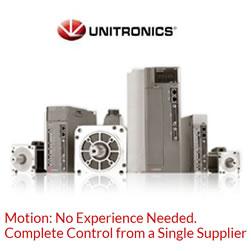 Unitronics' line of AC Servo Drives & Motors changes the traditional approach to motion control. They are simple to set up and painless to program. Unitronics Servos simplify implementation of motion applications while minimizing complexity and reducing development time. Some of the easy-to-use features in this new line include implementing motion control easily with ready-made motion code, embedded diagnostic tools, and automatic communication setup.