Qualcomm Assists Robotics Program Transition to User-Friendly, Java-Based Android Platform Powered by the Qualcomm Snapdragon 410 Processor ---- New Platform to be demonstrated at FIRST Championship April 2015, St. Louis, MO
MANCHESTER, N.H.---FIRST (For Inspiration and Recognition of Science and Technology), an international not-for-profit K-12 organization founded by inventor Dean Kamen to inspire young peoples interest and participation in science and technology, today announced that one of its four K-12 robotics programs, FIRST Tech Challenge (FTC) targeted to middle and high-school students, has selected a game-changing technology platform beginning with the upcoming 2015/2016 season.

The new platform features robot and driver-station controls based on a Qualcomm Snapdragon processor, which is new in the large robotics competition arena. The new system will be demonstrated at the FIRST Championship in St. Louis, April 22-25, 2015.
The platform, which consists of handheld devices, will be powered by Snapdragon 410 processors from Qualcomm Technologies, Inc. (QTI), a subsidiary of Qualcomm Incorporated, a FIRST Strategic Partner.
"In the foreseeable future, robotics will permeate our everyday lives," said FIRST Founder, Dean Kamen. "Our FIRST students are ahead of the game as they are already adept users of three emerging technologies: sensors; 3D printing, and open-source software. Now that we are adding this mobile element to the already-robust FIRST technology equation - just watch what these kids will be capable of doing."
The strategy to upgrade technology for the FIRST Tech Challenge program was in conjunction with FIRST Strategic Partner, Qualcomm.
"We are long-time supporters of FIRST programs and are excited to take this support to the next level. FTC teams will now be able to tap into the amazing capabilities of Snapdragon devices as the heart of their control system. We believe this has the potential to inspire students to become future generations of scientists, engineers, and inventors, in part by getting them to realize that the device they routinely hold in the palm of their hands can lead them to greater knowledge, new horizons, and eventually meaningful careers," said Matt Grob, CTO, Qualcomm Technologies, Inc. "This is an evolutionary step for FIRST and another example of how Qualcomm is bringing its expertise in mobile to robotics."
The move to this new Android platform demonstrates the FIRST organizations commitment to utilize the most innovative and advanced technologies and to prepare students with real, relevant STEM (science, technology, engineering and math) skills they will need and use in the 21st century workplace.
"Similar to the way in which FIRST programs have provided thousands of 3D printers to FIRST teams, our organization is constantly looking for ways we can enable students to gain hands-on experience and master new technology tools," said Donald E. Bossi, president, FIRST. "By bringing the platform powered by Snapdragon processors, and Java programming to the FIRST Tech Challenge, we are exposing our students to the incredible power and potential of devices they hold in their hands and use every day."
Moving to a communication and control system based on Android and Snapdragon will give FIRST Tech Challenge students powerful benefits during their build and competition seasons, including:
* High speed processing and advanced sensors already built into phones and tablets based on Snapdragon;
* Advanced communication architecture uniquely suited to mobile robotics;
* 1:1 Team to robot communication thats easy and reliable, allowing teams to "practice like they play;"
* Greater access to a wider variety of participants worldwide;
* Technology evolution on pace with devices powered by Android and Snapdragon;
* Teams can use all their existing FTC hardware, sensors, and electronics - just by adding Android and devices powered by Snapdragon processors and interface modules;
* Less intimidating step into robotics for students and teachers who have not yet participated on a robotics team;
* Elimination of a central field control system which means easier set up and inspections for fewer volunteers at on site competitions; and
* Fast team competition check-in, easier event set up, more reliable on field communications.
"Current FIRST Tech Challenge teams can use their existing equipment in the exciting new platform," said Ken Johnson, director, FIRST Tech Challenge. "A simple interface between Android devices and their current sensors and motor controllers will allow for a simple transition. Sensors built into the Snapdragon-powered devices will expand the teams options in future competitions as well."
These FIRST teams will also learn and use Java, the programming language now used by more than 8 million programmers and built into 3 billion devices. FIRST students will learn to program their robots with Java, chosen for its ease of use, prevalence in the classroom, and it gives teams great flexibility within the rigors of the competitions.
FIRST Tech Challenge is designed for students who want to compete head to head using a sports model. Teams design, build, and program their robots to compete on a 12x12 field in an Alliance format, against other teams. Teams are required to develop strategy and build a robot based on sound engineering principals, such as rapid prototyping and iterative design.
To learn more about FIRST Tech Challenge, please visit: http://www.usfirst.org/roboticsprograms/ftc
About FIRST
Accomplished inventor Dean Kamen founded FIRST (For Inspiration and Recognition of Science and Technology) in 1989 to inspire an appreciation of science and technology in young people. Based in Manchester, N.H., FIRST designs accessible, innovative programs to build self-confidence, knowledge, and life skills while motivating young people to pursue opportunities in science, technology, and engineering. With support from over 200 of the Fortune 500 companies and more than $20 million in college scholarships, the not-for-profit organization hosts the FIRST Robotics Competition (FRC) for students in Grades 9-12; FIRST Tech Challenge (FTC ) for Grades 7-12; FIRST LEGO League (FLL ) for Grades 4-8; and Junior FIRST® LEGO League (Jr.FLL) for Grades K-3. Gracious Professionalism is a way of doing things that encourages high-quality work, emphasizes the value of others, and respects individuals and the community. To learn more about FIRST, go to www.usfirst.org.
Featured Product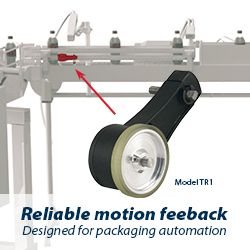 The Model TR1 Tru-Trac® linear measurement solution is a versatile option for tracking velocity, position, or distance over a wide variety of surfaces. An integrated encoder, measuring wheel, and spring-loaded torsion arm in one, compact unit, the Model TR1 is easy to install. The spring-loaded torsion arm offers adjustable torsion load, allowing the Model TR1 to be mounted in almost any orientation - even upside-down. The threaded shaft on the pivot axis is field reversible, providing mounting access from either side. With operating speeds up to 3000 feet per minute, a wide variety of configuration options - including multiple wheel material options - and a housing made from a durable, conductive composite material that minimizes static buildup, the Model TR1 Tru-Trac® is the ideal solution for countless applications.