Energid Signs Licensing Agreement with Thalmic Labs for MyoTM Enabled Robots
Cambridge, Massachusetts (March 12, 2015) - Energid Technologies today announced it has signed a licensing agreement with Thalmic Labs, the maker of the MyoTM gesture control armband, to support new and intuitive ways to program and control collaborative robots.

Collaborative robots, those that can work side by side with humans, are contributing in the workplace and will soon arrive at the home. Energid's software framework, Actin, has been designed to support the needs of this new generation of robots by making interaction simple, safe, and natural.
By combining years of robotic control experience with the latest in wearable technology, Energid and Thalmic make it easy to manage robot complexity. In the past, robot control and programming was often left to engineers and scientists. Energid's Actin is changing this with graphical programming, and the Myo armband makes interaction even easier with motion and gesture-based control.
"Energid has been testing the Myo armband with robot control strategies for six months," said Ryan Penning, Senior Robotics Engineer at Energid, "The hard work has paid off, and we are excited by the possibilities."
The armbands will initially be offered as an add-on to the Cyton line of humanoid robot arms sold through Energid's wholly-owned subsidiary, Robai.
"The Myo/Actin combination allows the robot to be controlled by mere gestures," said James English, CTO at Energid, "Programs that took hours are now possible in minutes."
The Myo armband, along with the Actin gesture plugin, are available for pre-order from Robai for the Cyton line of robots. Energid's Actin software with the Myo interface is also available to license for use with other robots.
"We are pleased to be working with Thalmic and offering their unique product to our customers", said Neil Tardella, CEO at Energid, "this is an important step in enabling the next generation of robotics."
For additional information, contact Mary Salzman, (888) 547-4100 x 420.
About Energid Technologies
Energid Technologies develops advanced software and robotic systems for the aerospace, agriculture, manufacturing, transportation, defense, and medical industries. Energid's Actin® software is a powerful control framework and operating system for commercial, industrial, and mission critical robots that is sold as a cross platform application and extensible software toolkit. Energid specializes in the sensing, control, and simulation of complex systems.
About Robai
Robai builds and markets the CytonTM line of humanoid robot arms and hands. These systems take advanced robotics from research into industry. Robai's Cyton Gamma is the latest offering from the company.
About Thalmic Labs
Thalmic Labs is pioneering new ways of interacting with digital devices. With a mission to merge people and technology, the company is revolutionizing how we will interact with technology in the future. Its first product, the $199 MyoTM armband, measures electrical activity in muscles to wirelessly control computers, phones and other digital technologies
Featured Product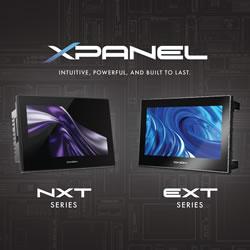 Introducing the Xpanel eXT and nXT series, advanced industrial HMI solutions that set a new standard for performance and usability. Utilizing our brand new Canvas HMI software for project creation, the Xpanel eXT and nXT series deliver a seamless and efficient user experience. They combine industrial-grade touch technology, powerful embedded OS hardware with a quad-core CPU, and an easy-to-use runtime platform. The Xpanel eXT and nXT series are specifically designed to optimize and streamline industrial operations, enhancing your HMI experience.