See the Power Motion i-MODEL A at Automate, Booth #660 where it will be integrated with an LR Mate 200iD robot.
FANUC America Corporation features a Power Motion i-MODEL A motion controller and an LR Mate 200iD mini-robot in an integrated demo for high performance, multi-axes general motion applications at Automate, Booth #660 & Promat, Booth #3653, March 23-26, 2015, Chicago, IL.

Power Motion i-MODEL A & LR Mate 200iD Demo at Automate
See the Power Motion i-MODEL A at Automate, Booth #660 where it will be integrated with an LR Mate 200iD robot. It will be demonstrating multi-process & multi-axes functionality integrating high-level motion features including: pre-processed motion commands using high-speed response function and a servo driven press using pressure & position control. The robot will perform a part transfer from one station to another demonstrating load/unload of the press. Additionally, using the robot connection function will demonstrate simple system connectivity, including sharing of screens, between the Power Motion i-A motion controller and the LR Mate 200iD robot. In the Güdel Booth #532 at Automate, a material handling, gantry motion control application will be demonstrated using a Güdel ZP-3 module on one rail controlled with a FANUC Power Motion i-MODEL A Motion Controller. This demonstration of dual independent carriages with motion on two axes (x and y) plus another axis on the wrist highlights the simplicity and ease of use of integrated linear and motion control technology for material handling and CNC machine tending.
Power Motion i-MODEL A Motion Controller
The Power Motion i-MODEL A motion controller is an integrated motion solution scalable from 1 to 32 axes of high performance motion control while also capable of 4 axes simultaneous interpolation. Included standard is a high speed PLC that supports all major industrial Ethernet networks and 2048 discrete input and 2048 outputs. The Power Motion i-MODEL A includes standard screens for setup, operation and maintenance. PLC and standard ISO G-code motion programming are both supported as basic features. This provides full featured, integrated motion architecture at a competitive cost for single and multi-axis applications that will benefit from FANUCs legendary reliability and performance delivering the lowest total cost of ownership. A wide range of easily customizable HMI solutions including standard panel mount LCD screens and the iPendant, a hand-held portable multi-function HMI, are available to meet the most demanding needs.
LR Mate 200iD Robots
The family of LR Mate 200iD robots is a versatile solution for a wide range of manufacturing operations that require access into small spaces. A very slim arm about the same size as a human arm, and a bottom cable exit option minimize interference with peripheral devices. The LR Mate 200iD robots offer a "best in class" work envelope for both upright and invert mount installations. The LR Mate 200iD robot family also offers ISO Class 4 clean-room and food-grade variants for food handling and healthcare packaging applications. LR Mate 200iD features & benefits include:
* Slim arm and compact foot print minimizes interference to peripheral devices in narrow spaces.
* Four to seven kg wrist load capacity with six-axis articulation.
* Best in class work envelope simplifies system layout.
* Fastest joint axes speeds maximize system throughput.
* Integrated 24VDC power, signal and air for easy end-of-arm-tool connection.
* Integrated thru-arm cable option for iRVision, force sensing, Ethernet and auxiliary axes.
* Flexible mounting (upright, invert, angle).
* High rigidity and the most advanced servo technology enable smooth motion at high speeds.
* Easy integration into machines.
* Features lightest mechanical unit in its class.
* IP67 rating allows operation in factory environments with dust and oil mist.
New LR Mate 200iD/4SC clean-room model is ISO Class 4 (Class 10) clean-room certified for electronics, pharmaceutical and food applications. It features a white FDA compliant coating, stainless steel wrist, NSF-H1 grade grease on all joints to provide reliable performance in demanding production environments, including rigorous sanitation procedures.
Featured Product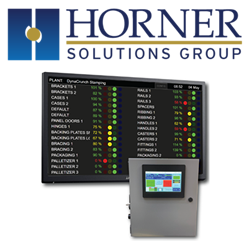 Horner Solutions Group offers a pre-programmed solution that is fast and easy to implement. No development on the user end, just a simple setup on the touchscreen and you can start monitoring and collecting data in minutes. With the ever-growing need for production data in the industry, we wanted to help bridge the gap for many production companies to be able to start collecting accurate and functional OEE (Overall Equipment Effectiveness) data within just a few minutes of setup, as opposed to the weeks/months many companies spend developing their own solution from scratch. For any customers that may have a need outside of the typical product mold, we also offer engineering services for custom hardware and software solutions of various types.