The LEGO MINDSTORMS Education EV3 platform, a full teaching solution that engages students in a number of key curriculum areas such as computer science, science, technology, engineering, and math correlated to national standards, now has an app to make it even easier to get started using robotics. ----The LEGO Education EV3 Programming App provides easy access to the EV3 platform and enables teachers and students to take advantage of the intuitiveness and mobility of tablets, allowing for greater flexibility, simplicity, and quick access to manageable curriculum-relevant programming content. ----Currently, the app is only compatible with iOS-based tablets and is available this March via the Apple iTunes app store and LEGO Education downloads. Versions in other languages will be available in June 2015.
AUSTIN, Texas--At the SXSWedu Conference in Austin, LEGO Education demoed the new LEGO Education EV3 Programming App for use with the LEGO MINDSTORMS Education EV3 solution. The EV3 Programming App is a simple and effective way for classrooms to get started with LEGO MINDSTORMS Education EV3 within a 45 minute classroom period. The combination of the physical EV3 robot and app provides educators with the tools needed to engage and motivate their students and opens up the possibility of expanding the EV3 experience to the more extensive computer-based edition of EV3.

The app will come as part of the LEGO MINDSTORMS Education EV3 software purchase. It is not sold separately or independently of the software. Full programming capabilities and integration with the three MINDSTORMS Education EV3 curriculum packs are only available with the full version of the LEGO MINDSTORMS Education EV3 programming software.
The App has a wide range of supporting materials to ensure educators have a successful start. It includes:
* Quick start videos and six step-by-step Robot Educator tutorials that provide an effective guide to the programming and hardware functionalities
* Building instructions for the Robot Educator model
* A user guide and teacher introduction pages
* Nine robotics lesson plans that link to local curriculum standards and suggest possible assessment areas
The intuitive software platform for LEGO MINDSTORMS Education EV3 is based on LabVIEW™ system design software. Created by NI, LabVIEW is used by engineers and scientists to solve some of the worlds greatest engineering challenges. LabVIEW provides LEGO MINDSTORMS Education EV3 users with fun, hands-on experiences that help them develop skills that can be used in school as well as industry. The integration of the tablet provides a natural touch interface for graphical programming, allowing students to hone their skills with real-world tools scientists and engineers use.
About LEGO Education
Since 1980, LEGO Education (LEGOeducation.us) has delivered hands-on, curriculum-based resources for teachers and students worldwide. LEGO Education believes a hands-on, minds-on approach helps students actively take ownership of the learning process and develop 21st-century skills such as creative thinking and problem solving through real-life, engaging experiences.
About SXSWedu
The SXSWedu Conference & Festival fosters innovation in learning by hosting a diverse and energetic community of stakeholders across a variety of backgrounds in education. The four-day event affords registrants open access to engaging sessions, interactive workshops, hands on learning experiences, film screenings, early stage startups and a host of networking opportunities. By providing a platform for collaboration, SXSWedu works to promote creativity and social change. SXSWedu is a component of the South by Southwest family of conference and festivals that includes SXSW Music, Film and Interactive; SXSW Eco and SXSW V2V. Internationally recognized as the convergence gathering for the creative arts, SXSWedu extends SXSWs support for the art of engagement beyond musicians, filmmakers and new media innovators to include societys true rock stars: educators. Join the passionate and innovative community at SXSWedu, March 9-12, 2015 in Austin, Texas. For more information, please visit: http://sxswedu.com.
Featured Product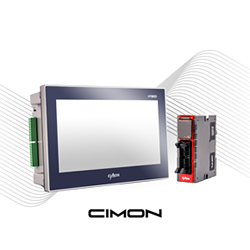 CIMON-XPANEL is a Windows CE based HMI unit. A combination of software and hardware, suitable for various monitoring needs within industrial sites.