Tweet and Learn about Grants Giant Spider-Bot during the Twitter Party
DALLAS & FORT WORTH, Texas--Mouser Electronics, Inc., the global authorized distributor with the newest semiconductors and electronic components, along with Hollywood celebrity engineer Grant Imahara, are extending a special invite to join Grant as the host for an exclusive Twitter party on Thursday, March 5 from 7-8 p.m. CST on Mousers Twitter handle. Whether youre an engineer, a fan of Grants, or interested in robotics and technology, this online social media event, hosted by Mouser Electronics, offers something for everyone. Join Grant as he takes over Mousers Twitter handle and talks one-on-one about his latest giant robotic spider, Mouser Electronics Empowering Innovation Together program, and the upcoming Empowering Innovation Challenge - a new robotics challenge will begin after the Twitter Party.

The Twitter party, sponsored by Texas Instruments, on March 5 is a global all-access pass for engineers and the public to engage with Grant Imahara to Tweet and learn about why he built his giant Spider-Bot and what his plans are to do with it. Using the power of social media to connect people together, this special event offers a unique opportunity to ask Grant questions and network with peers to discuss robotics, innovation, and cutting-edge technologies.
To join, simply log in to Twitter.com on March 5 from 7-8 p.m. (CST) and go to the Mouser Electronics Twitter page. Click on the "Tweet to Mouser Electronics" button on the left-hand side to participate with your questions during the party. Make sure to enter the hashtag "#GrantPartyatMouser" in your question. To view all the Tweets during the party, just enter the hashtag "#GrantPartyatMouser" in the search box at the top right-hand side of the screen, and follow the various responses and discussions.
The first challenge, the Robotics Photo Challenge, is still live. With less than a month left for the engineering community to submit their pictures of their robots, the race is on for engineers to prove their genius and earn bragging rights, plus the chance to win some cool swag and prizes along the way.
"Were inviting engineers to submit their creative ideas about my Spider-Bot," said Grant Imahara. "They just go online and share an idea and invite their friends to do the same. My passion is in robotics, and Ive been working in robotics for over 20 years. Ive got some awesome ideas and Im sure others do, too. So whos up for a challenge? What robots have others built?"
At the end of the Twitter Party, Grant will announce a new Robotics Empowering Innovation Challenge™. Grant will challenge the engineering community to submit an idea on what real-world problem they would solve with his giant Spider-Bot and why they want to solve it.
The engineering community is already voting for their favorite design on the Empowering Innovation Challenge site. The Photo Challenge is the first of a series of challenges on a variety of engineering topics hosted by Mouser Electronics.
The Empowering Innovation Together program is sponsored by Platinum Program Partner Texas Instruments. Also joining in the sponsorship are Molex and Panasonic as Diamond-Level partners.
Well known in the engineering community, Grant Imahara has paired his engineering expertise with a Hollywood TV and film career. In addition to his roles on Mythbusters and Battlebots, Grant has worked on many famous robotic characters - including R2-D2 in the Star Wars prequels, The Late Late Shows Craig Ferguson robot skeleton sidekick - Geoff Peterson, and the Energizer Bunny. He joins the Mouser team as a collaborator and spokesperson who shares Mousers passion to positively influence and support innovative design. To learn more about Grant Imahara, the Empowering Innovation Together campaign and Mouser partnership, visit www.mouser.com/empoweringinnovation.
With its broad product line and unsurpassed customer service, Mouser caters to design engineers and buyers by delivering Whats Next in advanced technologies. Mouser offers customers 20 global support locations and stocks the worlds widest selection of the latest semiconductors and electronic components for the newest design projects. Mouser Electronics website is updated many times per day and searches more than 10 million products to locate over 4 million orderable part numbers available for easy online purchase. Mouser.com also houses an industry-first interactive catalog, data sheets, supplier-specific reference designs, application notes, technical design information, and engineering tools.
About Mouser Electronics
Mouser Electronics, a subsidiary of TTI, Inc., is part of Warren Buffett's Berkshire Hathaway family of companies. Mouser is an award-winning, authorized semiconductor and electronic component distributor, focused on the rapid introduction of new products and technologies to electronic design engineers and buyers. Mouser.com features more than 4 million products online from more than 500 manufacturers. Mouser publishes multiple catalogs per year providing designers with up-to-date data on the components now available for the next generation of electronic devices. Mouser ships globally to over 400,000 customers in 170 countries from its 492,000 sq. ft. state-of-the-art facility south of Dallas, Texas. For more information, visit http://www.mouser.com.
Featured Product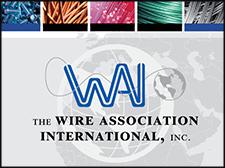 The Wire Association International (WAI), Inc., founded in 1930, is a worldwide technical society for wire and cable industry professionals. Based in Madison, Connecticut, USA, WAI collects and shares technical, manufacturing, and general business information to the ferrous, nonferrous, electrical, fiber optic, and fastener segments of the wire and cable industry. WAI hosts trade expositions, technical conferences, and educational programs.