Agri-Trend clients will have access to the PrecisionHawk Drone Platform, Sensors and Data Mapping tools with the expectation to fully commercialize, across the US and Canada, in 2016
Raleigh, NC February 25, 2015

PrecisionHawk and Agri-Trend today announced a partnership to offer PrecisionHawks leading UAV [Unmanned Aerial Vehicle] data collection, Sensing and Analysis tools to farmers across the US and Canada through the Agri-Trend SkyScout Program. This year, the partnership will offer UAV services throughout regions of Canada using trained individuals with the objective to roll out a full commercialization service model in 2016.
"Scaling comes from things being seamless and simple. It is our belief that to reach true field level value, these products need to be captured and delivered cost effectively through automated processes, on-board UAV intelligence, and by many different individuals, including both Coaches and Farmers," said Rob Saik, Agri-Trend Founder and CEO. "We see PrecisionHawk as the clear leader in this rapidly evolving space, and we believe, together, we can bring unmanned remote sensing products to the millions of acres owned by Agri-Trend clients."
The integration of DataMapper into the Agri-Data Solution Platform will be optimized in the first phase. This DataMapper/Agri-Data integration will allow farmers to aggregate and analyze data coming from a multitude of sources in order to make better decisions more quickly and efficiently. The expectation is to provide growers with full integration of orders, delivery and processing from a range of UAV platforms in 2016.
"So often we hear, how can drone technology actually improve agriculture?" Said PrecisionHawk CEO Christopher Dean. "This relationship combines the best aerial and software data technology to provide Agri-Trend farmers with next-generation data products that extend far beyond a traditional NDVI."
The collaboration between Agri-Trends Knowledge team and PrecisionHawks expertise and breadth of geospatial solutions will ensure that additional products are being continually developed and integrated to provide users with the most intuitive Aerial Data, agronomy solution on the market.
"The partnership includes a number of important firsts around the intersection of agriculture and drone technology," said Dean. "As the first large-scale, agricultural drone program roll-out in North America, aerial data will be seamlessly captured by PrecisionHawk systems and transformed into meaningful data products inside the Agri-Data system for application by the end grower."
As part of the partnership, Agri-Trend will offer PrecisionHawks UAV platform, suite of sensors and Data Software, Data Mapper, to its corporate partners, consultants and Coaches.
About PrecisionHawk
PrecisionHawk is an unmanned aerial systems and remote sensing company founded in 2010. The company provides an end-to-end solution for aerial data gathering, processing and analysis to provide actionable information to clients across a wide range of civilian industries. The team is comprised of professionals with backgrounds in remote sensing, unmanned aircraft operations, software development, data processing and GIS systems development. The company operates out of offices in Raleigh, N.C. and Toronto, Ont. with satellite offices around the globe.
About Agri-Trend Inc.:
Agri-Trend was established in 1997 in Alberta, Canada and has grown to become North Americas largest agricultural coaching organization, with over 250 professionals helping farmers grow their crop, sell their crop and manage their business. Agri-Trend Inc. has three divisions: Coaching, Agri-Knowledge and Agri-Data. The company is privately held and has been recognized for excellence in innovation, business management and agricultural leadership. Contact Warren Bills, wbills(at)agri-trend(dot)com, 403-874-3848.
Featured Product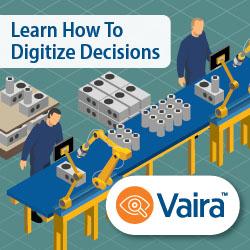 Pleora's Visual Inspection System helps operators detect errors and defects for unique component types, assembly steps, and custom low-run products where automated optical inspection (AOI) is too complex and expensive. The system helps DICA Electronics: Avoid costly, errors as a result of detecting errors at different phases in production, Speed time in detecting the root cause of the in-field errors with Tracking & Reporting apps for traceability, Maintain consistency in training new employees on requirements or with staff any time a new product is added, Easily train the system using 'good product' images for multiple product lines with no programming skills required, Reduce subjective decision-making, especially over a long shift, reducing error-escapes.