Robots and controllers from Yaskawa Motoman, ABB and FANUC grace a new generation of Güdel TrackMotion technology at Automate 2015 booth 532.
ANN ARBOR, MICHIGAN. Güdel Inc.'s continued growth in North America is highlighted with one of its biggest exhibition booths (# 532) at Automate 2015, March 23-26, McCormick Place, Chicago, Illinois USA. For the first time, Güdel previews a vertical TrackMotion at a major industry exhibition. Furthermore, attendees are treated to demonstrations of Güdel's third generation technology for gantries and tracks.

"We are proud to showcase our new gantry and robot track technology in a booth so close to major integrators and robot companies," said Joe Campbell, Vice President, Sales and Marketing. "Güdel works with all robots and is the technology of choice for top integrators. Visitors are invited for a preview of a new vertical TrackMotion and to talk with our automation specialists about product life cycle considerations and how to reduce mean-time-to-repair on robot tracks."
In addition to the TrackMotion TMV preview, ZP gantry robots, standard components and Güdel's third generation linear motion technology there are robots and controllers from Yaskawa Motoman, ABB and FANUC.
• A Yaskawa Motoman MA2010 robot mounted on a Z-axis made with standard Güdel TrackMotion components for a modular precision lift suitable for welding, painting, surface finishing, polishing and other process applications.
• An ABB IRB2600-20/1.65 robot mounted to an overhead TrackMotion TMO-2-E gantry demonstrates how to save floor space and extend the robot work envelope for material handling / machine tending, welding, and any in-line process with a long footprint.
• A ZP-3 gantry with dual independent carriages set for 2-axis handling (plus rotary wrist axes) with control provided by FANUC's Power Motion i-MODEL A Motion Controller. This demonstration highlights the simplicity and ease-of-use of overhead linear motion technology for CNC machine tending.
Additionally, there is an interactive station at the Güdel booth for hands-on experience with the cam follower advantage, including best-in-class, 10-minute roller bearing replacement. Also available is a new white paper and video from Güdel that explains the critical differences between cam followers and profile guides.
About Güdel Inc.
Güdel Inc. is the US subsidiary of Güdel Group, a global manufacturer of robotic automation products, systems and services. Güdel supplies linear motion modules, robot track motion units, gantry robots and components to OEM's, systems integrators and machine builders serving the automotive, aerospace, logistics, heavy industrial and power generation industries. Güdel Inc. is located in Ann Arbor, Michigan in a dedicated 45,000 square foot facility, providing North American customers with engineering, design, production, and customer service support. Güdel Inc. also operates a satellite engineering office in Troy, MI.
Güdel Group was founded in 1954. Headquartered in Langenthal, Switzerland, today Güdel operates in 21 locations worldwide.
Featured Product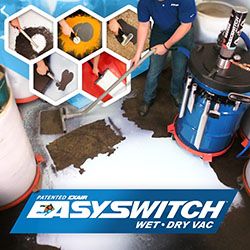 Be sure to attend the latest of EXAIR's webinars. Get educated on pneumatic industrial vacuums so you can break the cycle of replacing electric shop vacuums. Industrial environments often present a continual battle to keep them clean and safe. Unavoidable by-products of manufacturing processes include liquid and solids which often present hazards to personnel, products and processes. Solids may be trim, dusts, or chips from a manufacturing line; liquids may be coolant spills, coating overspray, or even burst packages. Cleaning up these materials often falls on the operators of the equipment who need reliable, adaptable, safe and effective tools for cleanup. Supplying them with tools which fail frequently or do not meet the requirements of the safety team is a recipe for disaster. Attend this webinar to gain an understanding of how pneumatic vacuums can reduce the maintenance, increase reliability, and improve flexibility for your facility. Attend live on May 24th at 2 p.m.