TerraMax technology provides force multiplication and protects troops
OSHKOSH, Wis.--Oshkosh Defense, LLC, an Oshkosh Corporation (NYSE: OSK) company, will present its TerraMax Unmanned Ground Vehicle (UGV) technology at the Future Defence Summit Unmanned Systems Conference luncheon on Feb. 23 during the International Defence Exhibition and Conference (IDEX) 2015. IDEX will host military leaders and dignitaries from around the world from Feb. 22-26 in Abu Dhabi, United Arab Emirates.

"In todays high-threat environment, crew protection and safety are critical, especially as militaries worldwide look to maximize their current troops and equipment," said U.S. Army Major General (Retired) John Urias, executive vice president of Oshkosh Corporation and president of Oshkosh Defense. "Our extensively tested TerraMax technology provides armed forces the option to complete missions in dangerous situations with fewer troops, protecting countless lives."
The Oshkosh TerraMax UGV technology has proven capable of being seamlessly integrated into convoy operations during live-force military evaluations and has been tested in virtually every manner of tactical environment. Unlike remote-controlled or tele-operated systems, TerraMax UGVs leverage the latest robotics technology that enables them to perceive and navigate complex, off-road environments entirely unmanned, with minimal operator supervision. TerraMax UGVs autonomously complete predetermined missions in the lead, or any position within a convoy while cooperating with other convoy vehicles and maintaining prescribed separation distances. TerraMax UGVs can be commanded on the fly to follow the same path as a lead vehicle, and because they do not rely on actively tracking the lead vehicle with its sensors, following distances beyond line of sight are possible. This flexibility is critical for troop safety, providing safe standoff from IEDs.
Oshkosh has produced and sustained more than 150,000 tactical wheeled vehicles for the United States and International militaries. Oshkosh serves armed forces around the globe by offering a full portfolio of heavy, medium, mine-resistant ambush protected (MRAP), airport rescue fire fighting (ARFF), and light vehicles. As the leading military vehicle manufacturer and ground operations experts, Oshkosh delivers an autonomous system with an unrivaled level of integration that can boost the performance and protection levels of logistics convoys. TerraMax UGV technology is delivered as a scalable kit that can be tightly integrated onto any tactical vehicle without compromising the vehicles original payload and performance capabilities. TerraMax UGVs are built to operate for extended periods of time, day or night, through dust and adverse weather without the fatigue or loss of awareness that can commonly afflict human operators.
TerraMax is designed to support rapid deployment allowing troops to be trained on TerraMax-equipped vehicles in only a few days. The user-friendly TerraMax operator control unit (OCU) serves as a significant force multiplier that empowers a single operator to supervise multiple unmanned ground vehicles from a stand-off distance. TerraMax UGV technology enables commanders to remove drivers from the vehicle entirely and minimize the number of troops exposed to potential threats such as IEDs.
Oshkosh has been supporting militaries in the Middle East for nearly 30 years and has a well-established presence with program offices in the United Arab Emirates and Kingdom of Saudi Arabia. Countries throughout the region, including the United Arab Emirates, the Kingdom of Saudi Arabia, Egypt, Jordan, Iraq and Oman, rely on Oshkosh vehicles for tactical and logistical operations. Oshkosh retains partnerships with industries in select markets and provides the full spectrum of vehicle life-cycle sustainment capabilities through its Integrated Product Support services.
Oshkosh will showcase its TerraMax technology and its capabilities at IDEX booth #02-B11 along with the MRAP All-Terrain Vehicle (M-ATV) Extended Wheel Base Medical (EXM) and Light Combat Tactical All-Terrain Vehicle (L-ATV). Oshkosh Defense leadership will be available throughout IDEX to discuss the companys commitment to the Middle East and North Africa region and its full range of vehicles, technology and service offerings.
About Oshkosh Defense
Oshkosh Defense is a leading provider of tactical wheeled vehicles and life cycle sustainment services. For decades Oshkosh has been mobilizing military and security forces around the globe by offering a full portfolio of heavy, medium, light and highly protected military vehicles to support our customers missions. In addition, Oshkosh offers advanced technologies and vehicle components such as TAK-4 independent suspension systems, TerraMax unmanned ground vehicle solutions, Command Zone integrated control and diagnostics system, and ProPulse diesel electric and on-board vehicle power solutions, to provide our customers with a technical edge as they fulfill their missions. Every Oshkosh vehicle is backed by a team of defense industry experts and complete range of sustainment and training services to optimize fleet readiness and performance. Oshkosh Defense, LLC is an Oshkosh Corporation company [NYSE: OSK].
To learn more about Oshkosh Defense, please visit us at www.oshkoshdefense.com.
About Oshkosh Corporation
Oshkosh Corporation is a leading designer, manufacturer and marketer of a broad range of access equipment, commercial, fire & emergency, military and specialty vehicles and vehicle bodies. Oshkosh Corporation manufactures, distributes and services products under the brands of Oshkosh, JLG, Pierce, McNeilus, Jerr-Dan, Frontline, CON-E-CO, London and IMT. Oshkosh products are valued worldwide by rental companies, concrete placement and refuse businesses, fire & emergency departments, municipal and airport services and defense forces, where high quality, superior performance, rugged reliability and long-term value are paramount. For more information, visit www.oshkoshcorporation.com.
Featured Product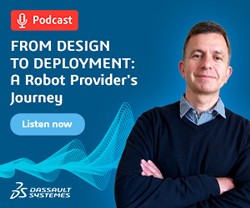 Let's listen to Arvind Krishnan, industry analyst at Lifecycle Insights and Michael Mayr, Industrial Equipment Sales Strategy Expert at Dassault Systèmes. They will discuss the robot industry and how startups can succeed in this market.