he Mohamed Bin Zayed International Robotics Challenge intends to attract the world's best and brightest in robotics
ABU DHABI, UAE, February 16, 2015 --

The Mohamed Bin Zayed International Robotics Challenge intends to attract the world's best and brightest in robotics
The launch of the Mohamed Bin Zayed International Robotics Challenge (MBZIRC) was announced in a press conference at Khalifa University in Abu Dhabi, UAE on February 15, 2015. The launch event was facilitated by a robot, who directed guests to their seats. MBZIRC, organized by Abu Dhabi-based Khalifa University, will be held every two years and boasts prizes worth a total of USD 5 Million. The event is named after the Crown Prince of Abu Dhabi.
"This event will undoubtedly attract some of the best robotics minds in the world, and bring international attention to the growing robotics industry in the UAE," said Khalifa University President, Dr. Tod Laursen. "Throughout history, challenges issued by governments, scientific communities, and international entities have often played a central role in advancing knowledge - the so-called "space race" of the 1960s is perhaps one of the most memorable examples of this idea, and the UAE has picked up this theme recently with its aspirations for a Mars mission. In a similar spirit, the MBZIRC will spur future development of worldwide robotic technology by requiring research, invention and real-life application of its winners. Challenges issued in this event will stretch participants a bit beyond the current state of the art, such that new developments and discoveries will be needed for success. We believe that a bit of audacity in challenge specification is key to the innovation process."
The first MBZIRC will require competitors to develop aerial and ground vehicles capable of executing tasks in complex, dynamic environments. The challenge will be to create a vehicle that can complete tasks in a simulated disaster response scenario. It will involve the collaboration of a group of unmanned aerial vehicles (UAVs) and unmanned ground vehicles (UGVs) in a changing environment that requires the robots to carry out a series of tasks using autonomous navigation and environmental interactions. The challenge will be judged by an independent panel made up of international robotics experts.
Teams interested in entering the challenge can find more information at: http://www.mbzirc.com. Proposals must be submitted by June 2015, and participants will be selected in October 2015. Also, individuals can look for more information on MBZIRC on social media via #MBZIRC on Twitter and Facebook @MBZIRC.
Featured Product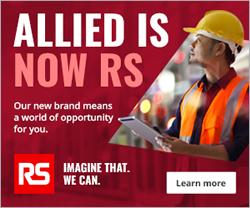 Moxa is a leader in edge connectivity, industrial computing, and network infrastructure solutions for enabling connectivity for the Industrial Internet of Things. With over 30 years of industry experience and 65 million devices connected worldwide, Moxa has a distribution and service network to serve customers in more than 80 countries. Now at Allied-find over 1,000 products from Ethernet switches, protocol converters, routers, and more. Allied Electronics & Automation, part of RS Group & Automation, part of RS Group is an authorized distributor of Moxa.