he Mohamed Bin Zayed International Robotics Challenge intends to attract the world's best and brightest in robotics
ABU DHABI, UAE, February 16, 2015 --

The Mohamed Bin Zayed International Robotics Challenge intends to attract the world's best and brightest in robotics
The launch of the Mohamed Bin Zayed International Robotics Challenge (MBZIRC) was announced in a press conference at Khalifa University in Abu Dhabi, UAE on February 15, 2015. The launch event was facilitated by a robot, who directed guests to their seats. MBZIRC, organized by Abu Dhabi-based Khalifa University, will be held every two years and boasts prizes worth a total of USD 5 Million. The event is named after the Crown Prince of Abu Dhabi.
"This event will undoubtedly attract some of the best robotics minds in the world, and bring international attention to the growing robotics industry in the UAE," said Khalifa University President, Dr. Tod Laursen. "Throughout history, challenges issued by governments, scientific communities, and international entities have often played a central role in advancing knowledge - the so-called "space race" of the 1960s is perhaps one of the most memorable examples of this idea, and the UAE has picked up this theme recently with its aspirations for a Mars mission. In a similar spirit, the MBZIRC will spur future development of worldwide robotic technology by requiring research, invention and real-life application of its winners. Challenges issued in this event will stretch participants a bit beyond the current state of the art, such that new developments and discoveries will be needed for success. We believe that a bit of audacity in challenge specification is key to the innovation process."
The first MBZIRC will require competitors to develop aerial and ground vehicles capable of executing tasks in complex, dynamic environments. The challenge will be to create a vehicle that can complete tasks in a simulated disaster response scenario. It will involve the collaboration of a group of unmanned aerial vehicles (UAVs) and unmanned ground vehicles (UGVs) in a changing environment that requires the robots to carry out a series of tasks using autonomous navigation and environmental interactions. The challenge will be judged by an independent panel made up of international robotics experts.
Teams interested in entering the challenge can find more information at: http://www.mbzirc.com. Proposals must be submitted by June 2015, and participants will be selected in October 2015. Also, individuals can look for more information on MBZIRC on social media via #MBZIRC on Twitter and Facebook @MBZIRC.
Featured Product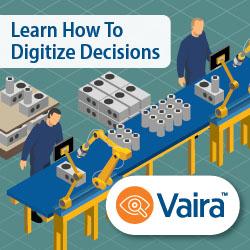 A unique distillery uses Pleora's Visual Inspection System to maintain brand quality standards and reduce errors that increase operating costs and slow production. To help ensure brand consistency, the distillery uses Pleora's AI-based Visual Inspection System to add decision-support for manual labelling processes. The camera-based system integrates pre-packaged AI plug-ins that are easily trained on a customer's unique requirements to visually highlight product differences and deviations for operators and inspectors on a display. The distillery trained the Image Compare plug-in to identify key brand elements on the bottle, with a real-time on-screen image overlay then guiding operators as they manually place the emblem. In addition, the system can be used as a training tool to teach new employees on brand quality standards.