Electroadhesion-based grippers offer solutions for handling fabric, apparel, composite fibers, solar cell components, and mobile devices
SANTA CLARA, Calif. - February 10, 2015 — Grabit Inc., a manufacturing automation and material handling solutions company, announced today that it is launching a new line of robotic grippers based on the company's electroadhesion technology. Electroadhesion is a highly-flexible, ultra-low energy technology that enables the handling of delicate, and difficult to grasp parts. Grabit grippers are simple to operate and eliminate the need for bulky, energy-intensive, and costly vacuum pumps or custom mechanical gripper attachments.

Grabit P-Series (Panel-Series) Grippers are ideal for a variety of applications that include handling fabric, apparel, composite fibers, pre-preg, mobile devices, solar cell components, printed circuit boards, flex circuits, and glass displays. P-Series grippers are offered in five different sizes for a variety of parts and applications. Grabit grippers can also be combined to meet the specific needs of a customer's application.
"We are pleased to announce the worldwide launch of our P-series family of robotic grippers," said Charlie Duncheon, CEO and co-founder of Grabit Inc. "Working directly with customers, we have validated the unique value of electroadhesion and have expanded the product line to enable the adoption of automation in markets that were unable to deploy automated systems because of part handling challenges."
Grabit grippers offer enhanced flexibility, reduced complexity, gentle handling, and low-energy consumption. Grabit's electroadhesion technology eliminates the need for part-specific grippers and minimizes gripper changeover, dramatically reducing costs and downtime. In addition, Grabit's electroadhesion technology offers scratch and smudge-free handling on glass and other delicate surfaces. With ultra-low energy usage, in the range of 1-10 watts, Grabit grippers enable new "un-tethered" applications with mobile robots maximizing battery life. Grabit's novel technology allows the "de-stacking" and manipulation of single layers of fabric, apparel, composite fibers, wire grids and mesh that have proven to be very challenging to automate with conventional gripper technology.
"Grabit has evolved electrostatics to a maturity level that is ready for the demanding manufacturing environment and our customers have now integrated the technology in production systems," said Harsha Prahlad, Ph.D., CTO and co-founder of Grabit Inc. "Grabit grippers include a robust design, rugged materials and adaptive control algorithms that enable grippers to perform consistently and reliably in real-world manufacturing conditions."
Grabit's P-Series Grippers will be highlighted during the Robotic Industry Association (RIA) New Advances in Robot End Effectors webinar on Thursday, February 12, 2015. To register for the webinar, please visit: https://attendee.gotowebinar.com/register/526653239405355265
For more information on Grabit's P-Series Grippers, please visit: http://grabitinc.com/products/
To request a quote, please visit: http://grabitinc.com/request-a-quote/
###
About Grabit, Inc.
Grabit Inc. is poised to revolutionize the multi-billion dollar material handling market with its patented electroadhesion technology. Grabit's products enable completely new solutions in both manufacturing and warehouse automation. Grabit's products enable the handling of delicate and difficult to grasp parts, while eliminating the need for custom and costly alternatives. Grabit grippers provide customers with improved productivity and expanded capabilities by offering increased flexibility, reduced complexity, energy savings, and noise reduction. Grabit has a growing list of customers, including several Fortune 500 companies in the manufacturing and warehouse automation industries. For more information visit www.grabitinc.com
Featured Product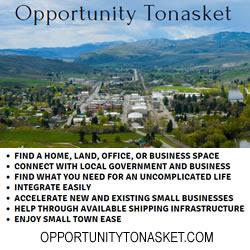 Our primary mission is to promote economic development and growth in the city of Tonasket, WA and surrounding area. This is a group of local citizens sharing a common goal. We wish to assist and promote existing businesses wishing to relocate, local businesses wishing to expand and local individuals wanting to startup a business. Preserving and enhancing the small town and rural lifestyle in a way which benefits everybody and maintains a healthy lifestyle. Opportunity Tonasket was created to be a hub for information and contacts with local city and county agencies, as well as local businesses and real estate connections. Their goal is to connect current and newly relocated individuals and businesses and "plug them in" with the best services, advice and experts in the area. Opportunity Tonasket is like a leg-up, as if one's already had a foothold in the community.