Worlds first fully automatic 3D design tool for additively manufactured gripper fingers
01-27-2015 - SCHUNK eGrip is the worlds first fully automatic 3D design tool for additively manufactured gripper fingers, and is now available for free on the SCHUNK website. Minimal data are required for the fully automatic calculation of the optimal 3D contour, pricing, and delivery time. The license-free, browser-based web tool from the competence leader for clamping technology and gripping systems, SCHUNK reduces the design and ordering time for customized gripper fingers to only 15 minutes.

With the intelligent software, which is available around the clock and doesnt require a separate CAD program, the user has to upload the workpiece or component as a STEP or STL file and enter additional specific information, such as the weight, installation position of the gripper and finger length. In a few seconds, the user receives a detailed offer containing the 3D contour, the delivery time, and the price. SCHUNK eGrip can quickly calculate even complex geometries. Users can either order the top jaws right away or save the offer and retrieve it later. In addition, the outer contour of the generated assemblies, consisting of the gripper, top jaws and workpiece, can be downloaded in STL format for immediate use in the system design.
Enormous time and cost advantage
The affordable additively manufactured SCHUNK top jaws can be quickly manufactured and are made of lightweight, wear-resistant polyamide 12, in either white or black. For use in pharmaceutical and medical applications, top jaws are also available in FDA-approved polyamide 12. Since polyamide is resistant to chemicals and suitable for use with foods, it can also be reliably used in connection with aggressive media. Due to their low weight, the top jaws are ideal for minimizing cycle times and power consumption of systems; they can also be used with smaller robots or handling systems. In combination with the SCHUNK BSWS quick-change jaw system grippers can be re-equipped for a new parts spectrum within seconds. In the first phase, SCHUNK eGrip top jaws are available for SCHUNK universal grippers PGN-plus 40 to 125, for SCHUNK small component grippers MPG-plus 20 to 64, and for the electric SCHUNK 2-finger parallel gripper EGP 25 and 40. Other series are planned.
Featured Product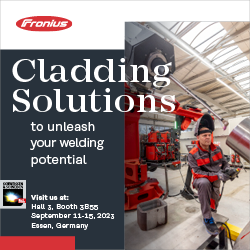 Ever since the invention of our "cold" MAG welding process Cold Metal Transfer (CMT), if not earlier, we have continuously achieved a technological edge in many welding-related areas, resulting in cutting-edge mechanized and automated welding systems. Advanced power source technology stabilizes the arc and ensures perfect welding results. Modern monitoring sensors optimize guidance of the welding torch and compensate for component tolerances. Last but not least, smart data documentation systems assist in perfecting the welding process. Collaborative systems, smart sensor technology, software solutions for data management, and offline programming including welding simulation open up profitable welding opportunities for metal processing companies starting with a single batch. That is why our robotic welding cells prove profitable not only for large companies, but also for small and medium-sized enterprises.