Trow & Holden Uses Baxter Robot as a Workforce Multiplier to Support a Large, Highly Specialized Customer Base
BOSTON, Jan. 29, 2015 -- Rising demand at Trow & Holden has led the company to integrate Rethink Robotics' Baxter robot into its production lines to help increase production capacity and improve workforce flexibility. Using Baxter as a workforce multiplier, Trow & Holden is meeting the demands of a large customer base with specialized needs, while successfully competing against larger providers in the space.

By adding Baxter to its production facility, Trow & Holden has been able to move employees into supervisory roles, driving efficiency that wasn't previously possible. The task Baxter is currently executing, which requires very precise timing and the ability to meet highly particular specifications, could not be affordably or practically automated prior to implementing collaborative solutions like Baxter.
"Manufacturers that are slow to embrace collaborative robots and other enabling technologies will lose significant ground to competitors willing to make that move," said Norman Akley, president at Trow & Holden. "Baxter is helping us stay ahead of the curve, offering a smart, flexible solution that is improving our production process immensely."
While working under harsh conditions, Baxter is executing a four-step process: removing tools from a fixture, placing the tool into a heat-treating induction coil, activating the heat by pressing a button, and then removing the tool and placing it into a cooling bath.
In operation since 1890, Trow & Holden is a fifth-generation family business that embraces the impact of collaborative robotics on the industry's present and future, citing these smart machines as a critical technology enabling innovation, flexibility and efficiency.
"Baxter's machine tending role at Trow & Holden is just one of many manufacturing tasks that couldn't be practically automated prior to collaborative robotics," said Jim Lawton, CMO at Rethink Robotics. "Smart, capable robots that can perform tasks like a human are filling this gap and helping to move the industry forward. They represent an important piece of our customers' factories of the future, and we're excited to be a part of those efforts."
For more information, please visit www.rethinkrobotics.com.
About Rethink Robotics
Rethink Robotics, Inc. helps manufacturers meet the challenges of an agile economy with an integrated workforce, combining trainable, safe and cost-effective robots with skilled labor. Its Baxter robot, driven by Intera, an advanced software platform, gives world-class manufacturers and distributors in automotive, plastics, consumer goods, electronics and more, a workforce multiplier that optimizes labor. With Rethink Robotics, manufacturers increase flexibility, lower costs and can invest in skilled labor—all advantages in fueling continuous innovation and sustainable competitive advantage.
Committed to accelerating robotics innovation in manufacturing and beyond, Rethink Robotics' Baxter Research Robot gives academic and corporate research environments a humanoid robot platform with integrated sensors and an open software development kit for creating custom applications.
Based in Boston, Massachusetts, the company is funded by GE Ventures, Goldman Sachs, Bezos Expeditions, CRV, Highland Capital Partners, Sigma Partners, Draper Fisher Jurvetson, and Two Sigma Ventures. For more information about Rethink Robotics, please visit www.rethinkrobotics.com
Featured Product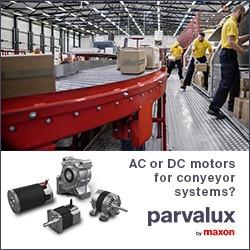 An effective, reliable and efficient drive system is essential to any material handling equipment, whether it's a motor-assisted tow truck, a barrel lifter, a robotic vehicle or a complete high-capacity parcel sorting hub; Parvalux designs and manufactures an exciting range of AC, DC brushless and brushed motors and our drives are valued for their performance and reliability.