Leader in UAV Technology to Boost Valmies Position in $98 Billion Drone Market
DENVER--Valmie Resources Inc. (OTCBB:VMRI) today announced it has signed a definitive agreement to acquire Vertitek Technologies, a privately-held technology frontrunner in the unmanned aerial vehicle (UAV) sector. With this acquisition, Valmie obtains rights to Vertiteks entire portfolio of investigational next-generation UAV designs and autonomous flight controllers. The transaction is expected to close in the coming weeks, subject to the customary closing conditions.

Vertiteks hardware and software technology enables a sophisticated level of autonomy for UAVs and other autonomous mobilized devices, including precision guidance controls and advanced safety features. Vertiteks commercial V-1 Droneâ" is a multi-rotor platform that features a large carbon fiber composite frame with high efficiency brushless motors designed to enhance Valmies speed-to-market strategy with an integrated, fully autonomous autopilot leveraging Valmies AIMD Platform.
"The commercial uses of drones and other unmanned vehicles will provide billions of dollars in economic growth - and we couldnt be more pleased to add Vertiteks resources to our mission-critical assets," said Gerald B. Hammack, President and CEO of Valmie, commenting on the deal. "This agreement is an exciting growth opportunity that shows promise for long-term profitability. Vertitek is a pioneer in its field and this acquisition will allow Valmie to accelerate commercialization of our groundbreaking AIMD platform, helping us to expand our commitment to excellence and capture market share early on."
Valmies revolutionary end-to-end cloud platform, AIMD (Autonomous Intelligence for Mobile Devices), will help users manage and control independent mobilized devices with a unique set of data services. This new platform, currently in development, will give drones - and other unmanned vehicles - an improved ability to communicate. Vertitek develops components for unmanned vehicles, leveraging the business value that comes from customizing them for specific industries and analyzing the data they collect.
"Everyone, it seems, is talking about unmanned vehicles, especially drones, whether for industry, research or performance art. The skies have never been busier," said Sean Foster, founder of Vertitek. "The acquisition marks the next step in the collaborative effort of the two companies and an opportunity to expand on the groundwork laid by our team. We have total confidence that our combined resources will propel both companies to new heights."
The exciting industry surrounding global unmanned aerial vehicles, or drones, is estimated to reach worldwide spending of $98 billion over the next decade, according to Business Insider. With platforms that serve as robust tools for data gathering and analysis, enabling mapping, surveying, 3D modeling and more, drones are currently in use across multiple industries around the world, including agriculture, construction, infrastructure, search and rescue, and ecological study.
About Valmie Resources (OTCBB:VMRI)
Valmie Resources is a U.S. company actively pursuing opportunities for the commercialization of leading edge products and services in the rapidly expanding technology industry. Valmie seeks concepts with valid business models positioned to make a significant impact within the four key "mega sectors" of technology: software, hardware, networking and semiconductors. Valmie brings operating talent, tools and leadership to emerging companies in these sectors, promoting industry awareness and developing economically sustainable partnerships while increasing shareholder value.
For further information visit http://valmie.com
About Vertitek Technologies
A high tech startup company, Vertitek was established to develop technology for a range of commercial unmanned vehicle applications around the globe. As a result of the exploding growth of this industry, a void exists between hobby and military level drones. Vertitek will help fill this gap with components to meet specific commercial mission requirements.
For further information, visit http://vertitek.com
Featured Product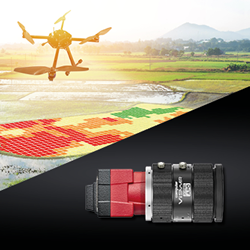 Allied Vision's compact and light weight Alvium SWIR (short wave infrared) cameras are the ideal choice to build cost-effective OEM systems used in embedded and machine vision applications. The cameras support a spectral range from 400 nm to 1700 nm at high quantum efficiencies. This allows to capture images in both the visible and SWIR spectra with a single camera and enables users to reduce overall system costs! Equipped with Sony's IMX990 and IMX991 SenSWIR InGaAs sensors, Alvium SWIR cameras deliver high image quality and frame rates. This makes them well suited for drones or handheld devices used in various industries such as, agriculture, mining, solar cell inspection or medical.