Research team uses Husky UGV to run autonomous sensor data in Chiles mines; goal to remove humans from dangerous environments.
(Kitchener, ON, Canada - January 22, 2015) The University of Chiles Department of Electrical Engineering and the Advanced Mining Technology Center are using the Husky unmanned ground vehicle to solve registration problems with complex sensor data in the mines. By doing so, accurate and reliable sensing and automation will exist to enable improved safety and efficiency for tele-operated and autonomous mining activities. The teams overall mission is to minimize manpower in Chiles dangerous mining environments.

"Our project develops existing technologies so that terrain surface profile and mine mapping information can be extracted from noisy sensor data," explains Dr. Martin Adams, Professor at the University of Chile. "Our Husky-based sensing system will contribute significantly to the success and efficiency in which future mining operations take place."
The project, Autonomous Rock Surface Modelling and Mapping in Mines, was designed to collect motion characteristics from Husky and noise characteristics from radar (Acumine 2D scanning millimeter wave radar), laser (3D Riegle scanning laser range finder) and vision-based sensors to model open pit and underground mines. A millimeter wave radar was used to penetrate dust, Speed-Up Robust Feature (SURF) detection was analyzed to determine the applicability of information extraction from mapping and surface profiling in mines. Sensors were integrated using the Robot Operating System (ROS).
"There is an interest in robotics and automation technologies for resource extraction, both to increase productivity and improve worker safety," said Julian Ware, General Manager of Research Products. "The discovery that this team is undertaking is an important contribution to the field of mining research."
3D video footage and densely sampled data sets were successfully collected upon completing field tests and data is in the process of being submitted to the International Journal of Robotics Research. A leading mining company in Chile has expressed interest in the research; discussions are underway to determine how this technology can be integrated into their workforce.
About Clearpath Robotics
Clearpath Robotics, a global leader in unmanned vehicle robotics for research and development, is dedicated to automating the worlds dullest, dirtiest, and deadliest jobs. The Company serves robotics leaders in over 40 countries worldwide in academic, mining, military, agricultural and industrial markets. Recognizing the value of future innovation, the Company proudly supports programs that facilitate growth within the academic disciplines of science, technology, engineering and math (STEM). Clearpath Robotics provides robust solutions that are engineered for performance and designed for the customer - we are your unmanned experts. Visit Clearpath Robotics at www.clearpathrobotics.com, follow us on Twitter @clearpathrobots or like us on Facebook.
Featured Product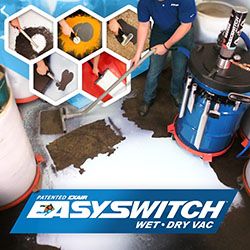 Super Air Knife reduces compressed air usage & noise when compared to other blowoffs. The Super Air Knife offers a more efficient way to clean, dry or cool parts, webs or conveyors. It delivers a uniform sheet of laminar airflow across entire length. https://exair.co/184_523 EXAIR is offering a special right now on Super Air Knives. Learn more at https://exair.co/184-sakpromo.com