Leverage InstaSPIN-MOTION technology for torque, velocity or servo position control systems with sensorless or sensored feedback
HOUSTON, Jan. 22, 2015 -- Developers can control three-phase motors in minutes with the new ultra-low-cost C2000 Piccolo F2806x InstaSPIN-MOTION LaunchPad development kit from Texas Instruments (TI) (NASDAQ: TXN). It provides a modular, quick-launch development tool containing everything needed — MCU, emulation and, for the first time, InstaSPIN-MOTION software — for engineers to easily and effectively design complete real-time motion control systems with optimized sensored or sensorless motion control.

Built upon TI's established InstaSPIN-FOC motor control solution, InstaSPIN-MOTION is uniquely designed to reduce controller tuning to a single parameter, optimize complex motion sequences and track desired trajectories with unmatched accuracy across operating ranges. The C2000 InstaSPIN-MOTION LaunchPad incorporates all features from the previously introduced InstaSPIN-FOC LaunchPad in addition to new InstaSPIN-MOTION features, enabling developers to take their designs to the next level.
"With the introduction of our C2000 Piccolo F2806x InstaSPIN-MOTION LaunchPad, we are making it even easier for our motion control customers to experiment with and implement our proven InstaSPIN-MOTION and InstaSPIN-FOC control solutions," said Chris Clearman, worldwide manager, motor control solutions. "Our trusted InstaSPIN and LaunchPad solutions—the result of more than 20 years of TI's investment in motion control technology—enable customers to create differentiated products and accelerate time to market."
Features and benefits of the C2000 InstaSPIN-MOTION LaunchPad:
* Eliminate motion control challenges in traditional motor systems by utilizing the integrated 90-MHz C2000 Piccolo TMS320F28069M microcontroller (MCU) with on-chip InstaSPIN-MOTION motion control technology.
* Leverage InstaSPIN-MOTION SpinTAC components from LineStream Technologies embedded on the ROM of the C2000 F28069M MCU to:
**IDENTIFY: Ensure optimum control by automatically identifying the real inertia and friction of the system.
**CONTROL: Minimize effort and reduce complexity with single coefficient tuning. Rapidly test and tune position and/or velocity control from soft to stiff response, defining a controller gain that typically works across the entire operating range of an application. The controller actively estimates and cancels system disturbances in real time, providing maximum performance.
**MOVE: Produce run-time optimized motion profiles based on start and target position or velocity and system limitations for acceleration, jerk and motion trajectory type.
**PLAN: Quickly combine various MOVEs with state-based logic.
*Achieve sensorless torque or velocity control with the FAST algorithm-based sensorless control as well as InstaSPIN-FOC and InstaSPIN-MOTION projects.
*Obtain sensored velocity or servo position plus velocity control with encoder feedback and InstaSPIN-MOTION projects. Watch this video to see how this exact technology was used to create a complete two-axis CNC machine with three unique motion profiles in less than one week!
*Isolated, real-time JTAG debugging with the on-board XDS100v2 USB to JTAG (and UART) for accessing most input/output pins of the InstaSPIN-MOTION-enabled Piccolo MCU.
*Pair with the $49 DRV8301 motor drive BoosterPack for a complete 240W three-phase, brushless DC motor and motion control solution. It includes an intelligent gate-driver, 1.5A step down buck converter, power MOSFETs with NexFET power MOSFET technology, and current sense amps in a small form factor.
*Begin software development easily with a free version of TI's Code Composer Studio integrated development environment.
*Quickly and easily evaluate and develop full InstaSPIN-MOTION-based applications using the hardware design package (gerbers, schematics and BOM) and motor control library (modules, drivers, system examples, documentation) included in the MotorWare software infrastructure, which offers latest in C object-oriented and API-based coding techniques and 100+ lab-based projects with robust documentation that lets you explore the features of InstaSPIN-MOTION. MotorWare also offers a customizable universal GUI to instrument any MotorWare project. Third-party support from Altair and Plexim provides more software programming options.
Pricing and availability
The C2000 F2806x InstaSPIN-MOTION LaunchPad (LAUNCHXL-F28069M) is available today for $25 USD, and the C2000 InstaSPIN-FOC LaunchPad (LAUNCHXL-F28027F) is available for $17. The DRV8301 motor drive BoosterPack (BOOSTXL-DRV8301) is available for $49. Software and documentation are available for download. The 90-MHz 32-bit floating-point Piccolo F2806xM MCUs equipped with InstaSPIN-MOTION start at $10.22 in 10k-unit quantities. Newly introduced Piccolo F2805xM MCUs equipped with InstaSPIN-MOTION start at $6.56, and Piccolo F2802xF MCUs equipped with InstaSPIN-FOC start at $4.03.
Innovation is at the core of TI MCUs
Beginning with the foundation of leading process technology and adding unique system architecture, intellectual property and real-world system expertise, TI continues its 20+ years of MCU innovation with low-power and performance MCUs. With unique products for ultra-low power, low-power performance and security communications, to real-time control, control and automation, and safety, designers can accelerate time to market with TI's ecosystem of tools, software, wireless connectivity solutions, extensive Design Network offerings and technical support.
For more information:
*Find out about TI's LaunchPad development kit ecosystem.
*Follow TI on Twitter.
*Like TI MCU on Facebook.
*Join the TI E2E Community.
About Texas Instruments
Texas Instruments Incorporated (TI) is a global semiconductor design and manufacturing company that develops analog ICs and embedded processors. By employing the world's brightest minds, TI creates innovations that shape the future of technology. TI is helping more than 100,000 customers transform the future, today. Learn more at www.ti.com.
Featured Product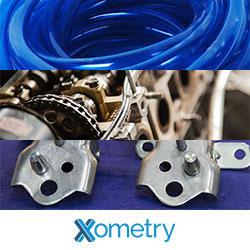 Xometry is your source for custom parts. Now, in addition to getting instant quotes on 3D Printing, CNC Machining, Sheet Metal, and Injection Molding, customers can create and send RFQs for die casting, stamping, and extrusion work to our nationwide network of pre-vetted manufacturers with just a 2D drawing. You will receive and be able to review responses from qualified shops within 7 days on an advanced web-based RFQ management platform. To learn more go directly to our site to issue and RFQ today. Stop wasting time managing RFQs through email and by phone, and start issuing RFQs at scale and in the cloud.