Evana solution will improve efficiency, ergonomics and error-proofing of key fob assembly process
EVANSVILLE, Ind., Jan. 20, 2015 -- Evana Automation Specialists, a leading Systems Integrator and builder of custom, automated assembly and test systems, recently received a contract to supply three automated assembly machines to a global Tier 1 automotive supplier. The Evana solution will improve efficiency, ergonomics and error-proofing of a key fob assembly process.

Once trays of key fob covers and batteries are automatically loaded, in stacks, into the automated assembly machines, the machines automatically de-stack the trays. From there, a Denso six-axis robot loads the covers onto a dial, which indexes them through a high-speed Keyence Laser Marker. The robot then snaps the battery into the cover in a controlled manner, where the force is monitored. High-resolution Cognex Vision Systems verify correct part types, inspect laser marks and battery insertion, and guide the robot to accurately pick parts from the trays. The pre-assembled covers are then offloaded to a conveyor that transfers them to the next process on the customer's line.
The automated assembly machines are scheduled for a March 2015 delivery. Evana is an authorized Keyence Laser Integrator.
"The growth of the keyless entry business for this customer, spurred by new programs from a large domestic car and truck manufacturer, made automation imperative for this assembly process," said Randy Wire, general manager of Evana Automation Specialists. "Since key fobs have become increasingly critical as components of keyless entry and security in today's vehicles, they have become smarter and more sophisticated. As a result of these developments, key fob assembly must meet stringent quality requirements."
Evana, a subsidiary of Phillips Service Industries (PSI), utilizes diverse technologies to specialize in motion control, robotics integration, welding integration and system architecture by linking production equipment, material handling systems, data collection, networking, as well as computer software and hardware into flexible, unified technology. Test equipment can be integrated into assembly systems, stand alone systems for automatic testing, or manual test benches. Overall, Evana's custom assembly and test solutions improve efficiency for manufacturers all over the world in industries like automotive, aerospace, defense, healthcare and alternative energy, as well as manufacturers of commercial and consumer products.
For more information about Evana Automation Specialists, visit www.evanaautomation.com. You can also follow Evana on Facebook, Twitter, Google+, LinkedIn and YouTube.
Featured Product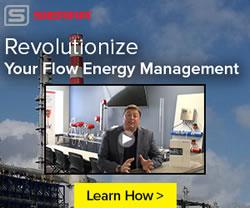 Sierra Instruments announces the launch of its new flow energy solution for managing and optimizing flow measurement for industrial facilities of all sizes. It features Sierra's QuadraTherm 640i/780i thermal flow meters, their InnovaMass 240i/241i vortex flow meters, and their new InnovaSonic 207i ultrasonic flow meter. Designed, built, and calibrated in the USA by Sierra, the Big-3TM share the same revolutionary Raptor firmware and many of the same software apps. They are a complete flow energy solution for flows like compressed air, natural gas, steam, and hot and chilled water. Together, they set a new standard in ease-of-purchase, performance, accuracy, reliability, and ease of use.