Online course will help participants upgrade their skills in this growing technology.
SCHAFFHAUSEN, Switzerland - Sept. 25, 2023 - TE Connectivity (TE), a world leader in connectivity and sensors, has partnered with RealPars, the world's largest online learning platform for cutting-edge industrial technologies, to offer an exclusive course on the fundamentals of Single Pair Ethernet (SPE) interconnect technology. SPE is a new communication standard for factory, process and building automation that is well-suited for the deployment of the Industrial Internet of Things.

With the increasing demand for more efficient, faster and effective communication systems, SPE is becoming a big topic in network infrastructure. The course is designed to provide participants with a comprehensive understanding of SPE technology and its benefits, as well as an overview of the latest trends, challenges and opportunities in the field. SPE solutions can help reduce complexity and costs and enable operations to go beyond their current capabilities in supporting smart manufacturing. After completing the course, participants will understand how SPE works and be able to deploy it in their own industrial setting, as well as being able to:
• Give definitions for the seven layers of the Open Systems Interconnection (OSI) model
• Describe the communication structure of SPE from the physical layer to the network layer
• Name the various standards that apply to SPE
• List the advantages that SPE can give over current and legacy protocols used in automation
• Differentiate between the types and functions of cables and connectors used for SPE
• Describe how power and data are transmitted in SPE architecture through the presentation of practical use cases
• Describe how TE and other automation providers are bringing a new and exciting version of Ethernet to the market
The self-paced course includes 24 lessons and 1.5 hours of video content. TE customers can be eligible for a special 15% discount on an annual Pro Membership to RealPars. To access the form and receive the discount, visit www.TE.com
Featured Product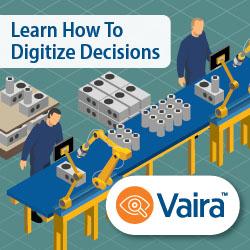 Vaira™ helps manufacturers digitize, automate, and upgrade error-prone manual processes and decisions to boost productivity and increase profits by helping humans make decisions consistent, reliable, and traceable. The camera-based solution is powered by a scalable suite of shop floor-ready apps built on proven machine vision and AI expertise for frontline manufacturing operations, with two-way integration to resource planning tools to help drive continuous analysis, insight, and improvements. Start digitizing immediately, streamlining processes customized to your unique requirements and reduce errors that lead to costs, delays, and quality concerns.