ExOne will be celebrating its loyal base of foundry customers throughout the five-day GIFA event, which is held every four years. More than half of all ExOne systems installed globally are now located at customer sites with two or more printers
Desktop Metal, Inc. (NYSE: DM), a global leader in additive manufacturing technologies for mass production, today reaffirmed its commitment to the global foundry market, where its ExOne brand remains the leader in digital casting solutions for foundries with its binder jet 3D printing technology.

ExOne will showcase the brand's innovative, market-leading portfolio at the 2023 GIFA International Foundry Trade Fair in Germany, to be held June 12-16, at Messe Dusseldorf. ExOne will be located at the entrance of Hall 12 in Booth C02.
"We are as committed as ever to our digital casting customers such as BMW Group, Kimura Group, Grede, Humtown, and others who are some of our highest production customers worldwide," said Ric Fulop, Desktop Metal Founder and CEO. "Foundries have laid the blueprint for how binder jet 3D printing will scale beyond castings with direct metal printing, and we're eager to deepen our relationship with the world's metalcasters as we improve accessibility of our systems downstream to every foundry."
A Celebration of Customer Loyalty
In addition to showcasing continued reliability enhancements to its popular digital casting systems, ExOne will also be celebrating the loyalty of its customers throughout the show.
More than half of all ExOne systems installed globally are now located at customer sites that have two or more sand printers. What's more, a growing number of these customers are Super Fleet customers with three or more systems running full production volumes, usually around the clock.
The average size of an ExOne Super Fleet today is five systems, with the largest fleet at Humtown Products in Ohio with 13 machines. The S-Max family of sand 3D printing systems is the workhorse of these Super Fleets, making up more than 80% of all Super Fleets worldwide.
The German car manufacturer BMW Group also is a Super Fleet customer with a full fleet of ExOne Exerial sand 3D printing systems producing cores for water jackets with inorganic binders for various combustion engines in the light metal foundry at the BMW Group Landshut plant.
Showcasing New Foundry Innovations
At GIFA, ExOne will also showcase a wide range of its market-leading sand binder jet 3D printing solutions, along with binders and applications from customers, including GF Casting Solutions Leipzig GmbH, Fraunhofer IGCV and Nexteam Group.
The S-Max Pro will be shown with an efficient box-in-box footprint with transport shuttle, as well as a dosing unit for powder additives. A visual representation of the Exerial - which remains the company's flagship system for volume production of sandcastings with sustainable inorganic binding systems - will also be showcased in the booth.
Aidro, a Desktop Metal subsidiary and a pioneer in the volume production of next-generation hydraulic and fluid power systems through metal additive manufacturing (AM), will also be part of a showcase that demonstrates a range of manufacturing capabilities for foundry customers - from traditional metal casting to modern production with digital sandcasting to production using direct metal binder jet printing on the Desktop Metal Shop System™.
Foundry Innovation Under $500,000
First announced in 2022, the S-Max Flex robotic sand 3D printer will also be shown at GIFA. Expected to retail below $500,000, the upgraded system is slated for global availability by year's end.
Among the enhancements, the new S-Max Flex is the first ExOne sand printing system to feature Desktop Metal Live Print machine-control software with an intuitive, easy-to-use interface. The software runs on a touchscreen system that will be on display at the show for users to experience firsthand.
This entry-level silica sand and furan system, which uses Desktop Metal's patent-pending Single Pass Jetting™ (SPJ) technology, will make sand 3D printing accessible to foundries worldwide.
About Desktop Metal
Desktop Metal (NYSE:DM) is driving Additive Manufacturing 2.0, a new era of on-demand, digital mass production of industrial, medical, and consumer products. Our innovative 3D printers, materials, and software deliver the speed, cost, and part quality required for this transformation. We're the original inventors and world leaders of the 3D printing methods we believe will empower this shift, binder jetting and digital light processing. Today, our systems print metal, polymer, sand, and other ceramics, as well as foam and recycled wood. Manufacturers use our technology worldwide to save time and money, reduce waste, increase flexibility, and produce designs that solve the world's toughest problems and enable once-impossible innovations. Learn more about Desktop Metal and our #TeamDM brands at www.desktopmetal.com.
Featured Product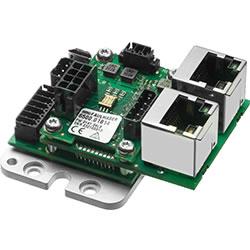 MOTION CONTROLLERS FOR MINIATURE DRIVES AND MICRODRIVES. FAULHABER has added another extremely compact Motion Controller without housing to its product range. The new Motion Controller is ideal for integration in equipment manufacturing and medical technology applications. With 36 V and 3 A (peak current 9 A), it covers the power range up to approx. 100 W and is suitable for DC-motors with encoder, brushless drives or linear motors.