In addition, the company detected a building momentum behind the industrial use of metal AM processes, and an overtly better-informed visitor base looking for pragmatic solutions for real industrial applications.
(28th November 2022, Huddersfield, UK.) Wayland Additive, the developer and manufacturer of the Calibur3 metal additive manufacturing (AM) system, is delighted to report an enormously successful Formnext 2022. In addition, the company detected a building momentum behind the industrial use of metal AM processes, and an overtly better-informed visitor base looking for pragmatic solutions for real industrial applications.

Will Richardson, CEO at Wayland says, "We commercially launched Calibur3 in 2021, and received an exceptional level of interest which we have built upon throughout 2022, with machines now being shipped to customers across the world. This year, however, it was really encouraging to see that an increasing number of visitors were not coming to us simply to further understand how the technology works, but to see how the technology could solve application-specific issues. My perception is that this is driven by a number of factors. First, and most obviously, we have been around for another year, and more people know about us and recognise the uniqueness of our NeuBeam process. Second, however, I think that the reaction to the supply chain challenges caused by global issues and economic downturn, has greatly increased companies' interest in localising manufacturing while still being able to innovate. AM plays to these key requirements for sure. Also, I think we are reaching the 'plateau of productivity' in the Gartner technology hype cycle, and it does feel as if mainstream adoption is beginning for metal AM, and the broader market is beginning to see its applicability and relevance."
While the use of metal AM is growing and gaining traction, not all metal AM technologies are the same. Wayland's Calibur3 system featuring the NeuBeam process is aimed at difficult to process metals that opens up a range of application areas impossible for other metal AM processes to serve.
Peter Hansford, Director of Business Development at Wayland says, "One of the key USPs of NeuBeam and Calibur3, is that it opens up many new opportunities for production applications of metal AM. This is because of the unique high temperature capabilities of the NeuBeam® process that opens up a much wider palette of metal material options. Calibur3 operates at temperature ranges that many in this industry are not used to. This means that we can process a much wider range of metal materials — including high carbon steels —which is a huge bonus for our clients. At Formnext, we received a significant volume of enquiries from companies looking to take advantage of our unique processing capabilities, a number approaching us with challenging applications from the aerospace, medical, energy, and mining sectors which before finding us had found it impossible to locate a metal AM process that could achieve their goals. At Wayland, we are now serving such customers with real solutions, and this means we can be seen to be pushing the envelope for the growth in take up of metal AM across industry."
The demand for Wayland's Calibur3 technology is such that pre-sale validation opportunities are becoming booked until well into January 2023, so early engagement is suggested to allow the Wayland team to respond to ensure detailed feedback on specific customer applications in a timely fashion.
www.waylandadditive.com
About Wayland Additive
NeuBeam® technology has been developed in-house from the ground up by a team of physicists that have worked for many decades with electron beam technology and industrial systems in the semi-conductor industry. The science, combined with extensive expertise and experience has allowed Wayland Additive to develop a very capable and reliable system rather than imitating existing systems or adapting off-the-shelf components and re-purposing them.
Featured Product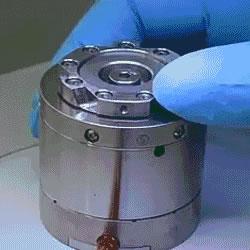 A traditional gantry system employs X-Y or X-Y-Z range of motion. Mounted on a base plate, usually granite, 2 parallel rails constitute the synchronized Y axis motion while the cross axis (bridge axis) provides the X motion. A vertical axis can be added on the bridge for the Z motion. A Split Bridge system can be less complex than a traditional gantry system because synchronization of the two parallel linear motors is not required. Both systems are used in industrial production, testing, and additive manufacturing.