At K 2022, X-Rite will highlight how an end-to-end digital color lifecycle can help brands and plastic manufacturers better predict and maintain color throughout production to achieve sustainability goals.
X-Rite Incorporated and Pantone LLC, global leaders in color science and technology, will showcase the latest color measurement advancements for a sustainable plastics workflow at K 2022, October 19-26, in Düsseldorf, Germany. The company will highlight how an end-to-end digital color lifecycle can help improve color communication, prototyping, formulation, production, and quality control for an efficient workflow that delivers predictable color results while reducing waste and rework.

"In the X-Rite booth, attendees will learn how connected color solutions help advance the plastics industry towards its goal of digital transformation and sustainability," said Matthew Adby, Product Management Director, X-Rite. "Using the latest color measurement devices and software, companies can replace or minimize physical phototyping with 3D virtual representation, better utilize recycled or biomaterials, achieve accurate formulation the first time, and monitor color accuracy throughout production to catch and correct color drift early. Not only does this help streamline production, but it's good for our planet."
In the X-Rite booth located in Hall 8B, Stand A73, attendees will see color technology and digital solutions for every stage of the design to production process.
Design - Build digital color palettes, specify accurate colors using both physical standards and digital solutions, and share digital color data across the global supply chain. Products include PantoneLIVE™, Pantone® Connect and Pantone Matching System™.
Visualization - Bridge the gap between physical and virtual phototyping by leveraging spectral data to render original color and texture onto a 3D model using X-Rite PANTORA™ software. Brands and suppliers can economically and sustainably present a range of color and appearance options on a virtual replica and evaluate the surface, curves, edges, and levels of transparency to identify color issues before production begins.
Specification - Create digital color standards for reproduction using the latest spectrophotometers. Learn which measurement device is best for your workflow, how to set realistic color expectations, and establish a spectral data audit trail for quality control.
Formulation - Develop a new color using the most advanced formulation software. Color iMatch intelligently processes color data to provide optimal initial color matches, reduces wasteful formulation attempts, and can formulate color using leftover and recycled materials.
Production - Maintain stable color in production using inline color measurement systems that monitor color on the line and automatically make corrections without operator intervention.
Quality Control - Compare and analyze production color to the standard ensuring it stays in tolerance from formulation through shipment. Learn how to identify color drift before it becomes an issue.
For more information about X-Rite solutions for plastics, visit https://www.xrite.com/industry-solutions/plastics
About X-Rite
Founded in 1958, X-Rite Incorporated is a global leader in the science and technology of color and appearance. With Pantone, X-Rite employs more than 800 people in 11 countries. The company's corporate headquarters are located in Grand Rapids, Michigan, USA, with regional headquarters in Europe and Asia and service centers across Europe, the Middle East, Asia, and the Americas. X-Rite offers a full range of solutions used by manufacturers, retailers, printers, and graphic design houses to achieve precise management and communication of color and appearance throughout their processes. X-Rite products and services are recognized standards in the printing, packaging, photography, graphic design, video, automotive, paints, plastics, textiles and medical industries. For further information, please visit http://www.xrite.com.
About Pantone
Pantone provides the universal language of color that enables color-critical decisions through every stage of the workflow for brands and manufacturers. More than 10 million designers and producers around the world rely on Pantone products and services to help define, communicate and control color from inspiration to realization - leveraging advanced X-Rite technology to achieve color consistency across various materials and finishes for graphics, fashion and product design. Pantone Standards feature digital and physical color specification and workflow tools. The Pantone Color Institute™ provides customized color standards, brand identity and product color consulting as well as trend forecasting inclusive of Pantone Color of the Year, Fashion Runway Color Trend Reports, color psychology and more. Pantone B2B Licensing incorporates the Pantone Color System into different products and services, enabling licensees to communicate and reproduce certified Pantone values and improve efficiencies for their users. Pantone Lifestyle brings color and design together across apparel, home, and accessories. Learn more at http://www.pantone.com.
Featured Product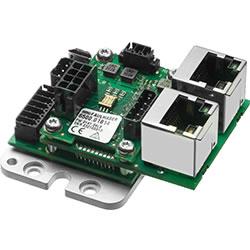 The FAULHABER stepper motor AM3248 raises the bar in terms of performance and dimensions. Offering up to 10,000 rpm, it achieves five times the speed of comparable stepper motors. Combined with a gearhead reduction of 100:1, it supplies a torque of 5 Nm. With a diameter of just 32 mm, it is suited for a wide range of applications in areas such as aerospace, laboratory automation, the semiconductor industry, robotics and 3D printing. Learn more!